ECONOMY: PRIORITY IS TO GET TOP TIER VCS INTO THE REGION
SoCal Alliance Seeks Entrepreneurial Clout
Originally published June 29, 2017 at 2:29 p.m., updated June 29, 2017 at 2:29 p.m.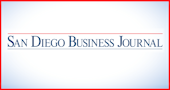 San Diego — Iconic entrepreneurial ecosystems have sprouted up in the main regions of Southern California. San Diego is known for biotech. Orange County has a reputation for medtech and life sciences. And Los Angeles has spawned social media, entertainment and e-sports startups.
Yet all three regions compete with each other and with Silicon Valley for venture capital due to the lack of a significant VC presence here.
For San Diego tech entrepreneur Steve Poizner, the answer is collaboration over competition. He forged an alliance among a group of tech, university, and research institute leaders — including innovation institutes affiliated with UC San Diego, UC Irvine and UC Los Angeles — with the lofty goal of unifying the entrepreneurial ecosystems across Southern California and accelerating their combined growth.
Nonprofit, No Headquarters
The Alliance for Southern California Innovation is a nonprofit with no physical headquarters. Its reach extends as far north as UC Santa Barbara. Members work remotely.
"The timing is ideal right now for SoCal to emerge as a world-class tech hub," said Poizner, a former California Insurance Commissioner. "Unlike most other regions of the U.S., SoCal has a large number of research universities that train a large number of talented engineers and scientists needed by startups and there's abundant office space.
That being said, it wasn't without challenges to put together the alliance, Poizner said.
"We spent many, many months, prior to launch, recruiting the seven universities, the research consortium, community board members and the advisory committee," he said. "This type of alliance had never been put together before in SoCal, so there was a lot of skepticism."
Enticing VCs
Ninety percent of U.S. venture capital money is in the San Francisco Bay Area, which includes Silicon Valley, said Marc Averitt, managing director of Okapi Venture Capital in Laguna Beach.
Poizner said part of the alliance's mission is to get more VC firms with top-tier track records to set up offices in SoCal, or more likely, to convince some individual venture capitalists to leave their firms and set up a new fund in SoCal. It's an effort to rectify a chicken-and-egg type problem that VCs want to see critical mass and some successful exits before setting up shop.
"So we are working on a dam-breaking strategy of recruiting a few great VCs…and publicizing (their) successes," he said. "We will hopefully attract some VCs by stimulating deal flow from campuses and…identify some opportunities to build centers of excellence in SoCal."
The first venture fund to partner with the alliance is Encinitas-based Section 32, a $160 million fund created by Bill Maris, founder and former chief executive of Google Ventures.
Incubators and Accelerators
Once the VC money is flowing in SoCal, the alliance's goal is to funnel VC-ready startups from local universities, research institutes, incubators and accelerators to firms that affiliate with the alliance.
The alliance has a collaboration agreement with San Diego-based EvoNexus, the largest pro-bono tech incubator in Southern California, with an outpost in Irvine.
The agreement details a reciprocal relationship where EvoNexus will present investment prospects to VC funds partnering with the alliance. And the alliance will connect its members to EvoNexus to propose potential startups for admission to the incubator.
"The alliance develops a new innovation brand for O.C. and SoCal more broadly," said Rory Moore, chief executive and director of EvoNexus and co-founder of its incubators. "The region lacks venture capital. That is the real magic of Silicon Valley. It takes large amounts of investor capital to scale a venture to a size where it can become a public company."
In total, EvoNexus has 178 companies in its portfolio that have amassed close to $1.2 billion in funding and outcomes, including 18 acquisitions, according to Moore.
Other Facets of the Alliance
The alliance itself is supported by a pro-bono collaboration that includes Los Angeles-based Latham and Watkins LLP for legal expertise; New York City-based Edelman for public relations; Los Angeles-based Creative Artists Agency for branding; Boston Consulting Group for strategic planning; La Jolla-based Fairway Technology for IT and web services; and London-based EY for accounting.
The alliance's board of directors includes Thomas Gewecke, chief digital officer of Burbank-based Warner Bros. Entertainment Inc.; Irwin Jacobs, founding chairman and chief executive emeritus of San Diego-based Qualcomm Inc.; Sherry Lansing, former chief executive of Los Angeles-based Paramount Pictures; and San Diego-based Scott Wolfe, a partner at Latham and Watkins.
Poizner is also on the board. He's no stranger to startups as he sold two of his to Qualcomm, worked as an executive at the company, was on the startup selection committee for EvoNexus San Diego and serves as the Entrepreneur-in- Residence with UC San Diego's Rady School of Management.
An advisory committee will provide strategic counsel to the alliance on topics including best practices and lessons learned from Silicon Valley. Its members include Eric Schmidt, executive chairman of Mountain View-based Alphabet Inc. and Gene Sykes, managing director of Goldman Sachs and chief executive of the Los Angeles 2024 Exploratory Committee for the Olympics.
The alliance intends to design a regionwide branding program presented through social media to recruit and retain domestic and international talent and create a strategic plan to identify high-priority sectors, such as artificial intelligence.
The alliance has engaged management consulting firm Boston Consulting Group to conduct a comprehensive study of Southern California's innovation economy and to develop an action plan for making Southern California the next global tech center. Its findings are expected to be announced this fall.
Building on Existing Synergy
All three regions have VC firms and programs that are already doing — on a micro level — what the alliance hopes to do on a macro level.
According to a recent report by the Kauffman Foundation, San Diego's startup activity increased dramatically last year, bumping the city up seven spots to become the fourth most active startup city in the nation.
Of course, all startup activity isn't new. The city has been working on stimulating the commercialization of discoveries from local research institutions for the past 25 years.
San Diego has a concentration of biotechnology companies that often get acquired by Big Pharma just before commercialization, such as Receptos Inc., which was acquired in 2015 for $7.2 billion by Celgene Corp. after only seven years of operation.
San Diego startups collectively brought in $1.3 billion in venture capital in 2016, with the vast majority of that cash going to life science and health care companies.
San Diego's tech scene is also growing. The city is particularly good at developing startups that sit at the intersection of science and technology, such as genomics chipmaker Edico Genome, which recently raised $22 million in a financing round led by Dell. Or Human Longevity, a company that's using big chunks of genomics data to determine health insights.
Founded in 2013, Human Longevity managed to raise $220 million in a Series B last year, and has reported a $1 billion valuation.
Perhaps the newest area of growth is startups in the artificial intelligence and software space. Nervana Systems, for example, was an AI San Diego startup that went from inception to a $400 million exit within two years.
The company was acquired by Intel in 2016.
San Diego has several incubators and accelerators to help fuel the startup economy, including CONNECT, San Diego Sport Innovators, EvoNexus, ScaleMatrix, and Canopy San Diego. Altogether, the city has something like 50 coworking spaces, incubators, and accelerators serving startups.
Bob Rief, executive director of the Solana Beach-based San Diego Sport Innovators, which has accelerated 70 companies in the sport and active lifestyle category over the last eight years, said the alliance appears to be the "perfect entity to draw attention to our region and its entrepreneurs."
"I really look forward to more players of substance in the space," Rief said. "I personally think we have given Silicon Valley a little too much of everything and love to see such a notable group of people dedicated to the incubation and development of the local innovation community. Trends start here, right in So Cal."
Staff Writer Brittany Meiling contributed to this report.