Former Company's Drug, CEO Back in S.D. With New Firm
Thursday, June 29, 2017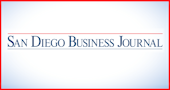 A drug whose failure led local biotech Celladon Corp. to fold in 2015 is coming back to San Diego, and in the hands of a former Celladon executive.
The drug was a gene therapy called Mydicar, and its clinical trial failure back in 2015 led to Celladon's near-80 percent stock crash, the resignation of CEO Kristina Zsebo, and the company's eventual merger with Bay Area biotech Eiger Biopharmaceuticals.
Now, more than two years since the merger, Celladon's lead product Mydicar is being sold by Eiger to a San Diego company called Theragene Pharmaceuticals. The drug was sold for $3.1 million, consisting of $240,000 in upfront cash and $2.85 million in Theragene common stock. Eiger might also get milestone payments up to $15 million, and royalties on net sales.
Mydicar is a gene therapy that was designed to insert a functioning copy of a specific gene into heart cells in an effort to salvage declining hearts and improve pumping power. But Celladon's Phase 2b trial failed to meet its endpoints.
Now, the drug is back in San Diego in the hands of Theragene, whose executive staff includes Zsebo, Celladon's former CEO. At Theragene, Zsebo is serving as senior vice president, according to her LinkedIn profile.
It's unclear what Theragene hopes to do with Mydicar, and the company did not respond to requests for comment. In a statement, however, Theragene CEO Jon Berglin said the company "firmly believes in the potential of this gene therapy to improve the lives of those with heart disease."