Survey: S.D. CIOs Looking to Hire in Second Half of 2017
Thursday, June 22, 2017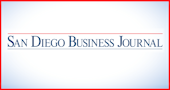 Twenty-one percent of chief information officers in the San Diego area plan to hire full-time technology professionals in the second half of 2017, according to a forecast from Robert Half Technology, a division of Menlo Park-based recruitment firm Robert Half.
Robert Half Technology's latest report is based on the results of a survey developed by the firm, which has been tracking IT hiring activity in the United States since 1995, and conducted by an independent research firm.
The percentage of respondents who said they plan to make IT hires in the second half of the year was up six points compared to the previous report released in December.
"Overall, demand for skilled IT talent remains high and many San Diego companies seem optimistic about the second half of the year," said Kyle Houston, Robert Half Technology's San Diego branch manager. "Companies are hiring for initiatives such as SharePoint Online, Office 365 and SCCM-related implementations, in particular."

Sixty-two percent of CIOs who responded to the survey expect to maintain staff levels by filling vacant roles. Respondents reported that an active hiring environment is contributing to a competitive market for IT talent: 61 percent of San Diego hiring leaders said it's somewhat or very challenging to find skilled IT professionals.
"San Diego sits in a uniquely favorable position, with the likes of Amazon and other companies quickly growing their local footprint and attracting top talent from other local organizations," Houston said. "We're beginning to attract top talent from other tech hubs like San Francisco, Portland and Seattle. We're also seeing movement from local technology professionals who are looking to improve their current career situations through new opportunities."
Thirty-one percent of the executives said the top factor contributing to local hiring was more businesses moving to the area and creating jobs in technology. Other factors included increased cloud or big data initiatives (24 percent), increased digital marketing initiatives (22 percent) and increased mobile initiatives (21 percent).
According to respondents, the skills in greatest demand within their organizations include network administration (62 percent), database management (58 percent), desktop support and wireless network management (both 56 percent), and windows administration and telecommunications support (both 55 percent).
Top priorities for these CIOs in the next six months included a focus on innovation or helping grow the business and technology innovation and investing in new technologies (both 23 percent).
Other priorities included staff retention (21 percent), upgrading existing systems for business efficiency (17 percent) and maintaining the security of IT systems and safeguarding company information (16 percent).