Software Startup Cloudbeds Raises $9 Million
Thursday, June 22, 2017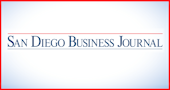 San Diego software startup Cloudbeds has raised $9 million in new funding, setting the company up to boost its headcount and possibly acquire other companies, the startup said.
The Series B round of funding was oversubscribed, according to the company, and was led by PeakSpan Capital, a growth equity investor based out of New York and Burlingame. The investor group was joined in the round by Nashville Capital, Cultivation Capital, TTCER Partners, and a new private equity and early-stage investment group in San Diego, ClearVision Equity Partners.
This is the second deal ClearVision has announced in a few short weeks, with the investment group leading Doctible's recent $2.2 million round.
Including this new round of cash, Cloudbeds has raised about $20 million since its founding in 2012.
The company has developed enterprise software for independently owned hotels, hostels, inns, campgrounds and vacation rental properties. It's basically the system that powers the front desk and reservation system. It also helps these independent hospitality companies market their rooms to travel agents and other third parties.
The company provides its software to 17,000 hotels and other properties in more than 120 countries, according to the company.
Cloudbeds now employs 102 employees, an explosion in headcount compared with just last year, when the company employed about half that many people.
The startup has had a lot of local support since its founding. Cloudbeds was named one of San Diego Venture Group's "Cool Companies" in 2016, and tech news source Xconomy named the startup a "2016 company to watch." They've also received early investment from local venture capital group Moore Venture Partners.
Cloudbeds said the new capital will be used to add more resources across their product, marketing, and technology teams, as well as acquire companies and expand its presence.
"We continually strive to build a better platform and we are excited that this new round of fundraising will also help us accelerate the release of new functionality," said Richard Castle, president and COO of Cloudbeds. "Our platform enables small lodging professionals to reach a global audience and we are looking forward to giving them more tools to help them successfully compete on a global scale."