Rock My World's Chatbot Is Ready To Pump You Up or Slim You Down
Wednesday, June 21, 2017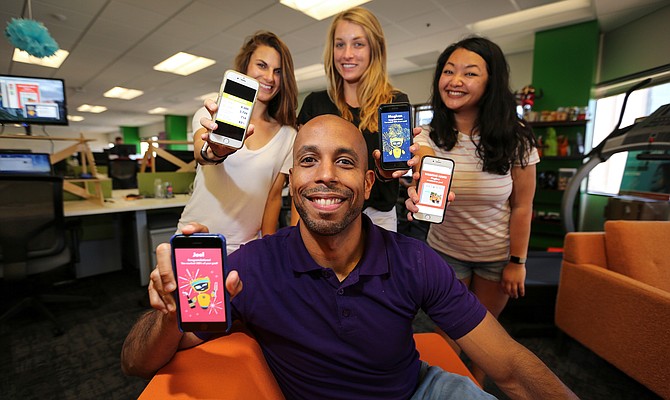 Local app startup Rock My World is entering the booming 'chatbot economy' this month, launching an artificially intelligent software bot that acts like a personal trainer.
The new product is meant to complement the startup's already existing music app for runners, RockMyRun, which plays tunes in sync with the listener's heartbeat. RockMyRun made a splash back in 2014 when the app got national attention, making the company one of the most popular tech startups in the city.
"I got a text from my mother-in-law early one morning, and she was like 'You're on the 'Today Show'!" said Adam Riggs-Zeigen, co-founder of Rock My World.
He didn't believe her at first, but after logging on to his laptop he found that all his servers were buckling under stress.
"There was so much traffic that it shut down our systems," Riggs-Zeigen said.
But it's been more than two years since Rock My World was the target of all that media attention, and locally the startup has been operating rather quietly ever since.
Now, the company is launching its brand new product called Jolt.ai, a chatbot to get users out of their desk chairs and moving.
Healthy Habit Forming
For those unfamiliar with 'chatbots,' they're basically pieces of software that are built to live inside messaging apps like Slack or Facebook Messenger. Like apps are to smartphones, chatbots are to messenger apps.
Rock My World's new bot will live inside Slack, the preferred messaging app for many progressive businesses. The bot is meant to keep teams active during the work day, engaging employees in conversations that boost healthy habits. For example, if a user — let's call him Steve — normally takes a walk during lunchtime but has forgotten today, the bot will send Steve a message in Slack that says, "Hey Steve, I noticed that you normally take a walk during lunch. Do you plan to go for a walk today?"
Team Efforts
The bot knows when Steve's walking and when he's not because it's pulling data from fitness apps built into the user's smartphone or wearable fitness trackers. It even knows Steve's co-workers, their habits, and schedules, and can make suggestions for employees to walk together based on blocks of free time in their day.
"We think we can make a big dent in what has become a problem with office workers," Riggs-Zeigen said. "People sit around most of the day, not getting up and being active."
The tech, like all AI-powered software, is a lot more complicated than what's described here. It can hold basic conversations with users, give daily updates on the user's health progress, give encouragements, and stoke competition among co-workers with a leaderboard that displays stats.
Monetization?
Riggs-Zeigen said the company has a few options for monetizing the technology, but hasn't settled on one yet.
"There are still some challenges facing chatbot makers, the same challenges that were facing app makers in 2009, actually" Riggs-Zeigen said.
Many users, he said, don't know how to find and download chatbots, so discovery is the main issue. But Riggs-Zeigen said he's not concerned about relative youth of the chatbot economy.
"Clearly a lot of commerce has been generated around apps, but in the early days nobody had a good sense on how they would make money on them," Riggs-Zeigen said.
And he's not alone in that thought. As of April 2017, more than 100,000 Facebook Messenger bots have been launched. Over the past year, users have shopped New York Fashion Week pieces from the Burberry bot, and asked the Starbucks Pumpkin Spice Latte bot its favorite book.
Venture capitalists have started paying attention to chatbots, too. In the first six months of 2016, $58 million was invested in chatbots and 29 new bot startups were founded, according to Venture Beat.
Slack, the messenger platform Rock My World is launching on, actually started an $80 million fund last year to invest specifically in bots running on its platform.
Riggs-Zeigen expects potential revenue streams for Jolt.ai will include corporate wellness clients, advertising, subscriptions, or micro-transactions. The app company is already cash flow positive, Riggs-Zeigen said, following several business partnerships and the success of the RockMyRun app. So the company has time to figure out how to monetize the new feature.
The startup employs 17 people, and operates out of tech incubator EvoNexus in Downtown San Diego.