City Council Rejects Special Election for SoccerCity Project
Tuesday, June 20, 2017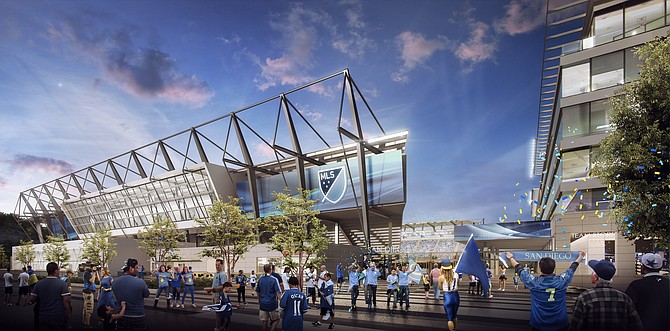 San Diego City Council has voted 5-4 to defer the proposed SoccerCity mixed-use development to the November 2018 general election, despite pleadings from project supporters that a vote was needed this year in order to meet timelines for delivering a pro soccer franchise to the city.
The June 19 vote, led by council's 5-4 Democratic majority, mirrored the June 12 decision to wait until next fall for a ballot measure aimed at expanding San Diego Convention Center through a hotel tax hike of up to 3 percent, rejecting a special election this fall.
The SoccerCity decision also came at the end of a meeting that lasted several hours and included public comments from dozens of supporters and opponents of SoccerCity and a fast-tracked election for deciding the fate of the project, proposed for the current site of Qualcomm Stadium in Mission Valley.
Following the vote, SoccerCity project manager Nick Stone said the project's investment group and other supporters would continue to fight for a faster voter decision on the project. Stone is part of a private investor group known as Goal San Diego and led by Michael Stone of La Jolla-based FS Investors, which recently gathered more than 100,000 signatures in an initiative campaign to place SoccerCity on an upcoming ballot.
Major League Soccer has said in the past that it would like to have a new stadium ready for play by spring 2020. The league is currently considering several cities for an expected four teams that it is planning to add in coming months.
"Today, the City Council heard hours of incredibly compelling testimony from hundreds of San Diegans who said they wanted to vote on SoccerCity before the MLS selects cities for the league's final four teams this fall," Nick Stone said in a statement after the council vote. "We're proud of the huge, broad coalition of citizens that stood up today against the powerful political establishment who wants to kill the project through delay."
Opponents of a special election said a general election is more appropriate, in order to get a larger expected voter turnout to decide on SoccerCity. Those opponents, which include other local developers and San Diego State University supporters, contend that a longer timeframe for consideration will allow more proposals to be fielded by the city for the Mission Valley site.
"We appreciate the support from the San Diego State University alumni and community members who spoke today at City Council on behalf of a fair and open process," SDSU officials said in a statement after the council vote. "We look forward to working with the city and other key stakeholders to evaluate the best use for the Mission Valley property with the goal of securing a future home for Aztec football and growing the university's academic and research endeavors, which benefit all of San Diego."
SDSU officials in May pulled out of discussions with the investment group to participate in SoccerCity, but the university has so far not formally joined any other developer's project at Mission Valley.
The privately financed SoccerCity would entail about $4 billion in development at full buildout and include a soccer stadium, entertainment district, offices, apartments and a river park. According to a poll taken in late May by San Diego Union-Tribune and 10 News, likely voters supported SoccerCity 43 percent to 40 percent, but opposed a special election 59 percent to 35 percent.