HOME SECURITY: COMPANY BECOMES KEY SUPPLIER TO INDUSTRY
Shift to Components Drives Nortek Growth
Originally published June 19, 2017 at 2:58 p.m., updated June 19, 2017 at 2:59 p.m.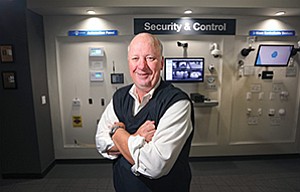 San Diego — When the wireless revolution hit the home security and automation industry several years ago, Carlsbad-based Nortek Security & Control LLC was confronted with more than just disruptive technology.
Surging consumer interest and plummeting prices for cellphone-controlled thermostats and devices such as remote video monitors attracted national retailers, Silicon Valley startups, even telecommunications giants. If Nortek was going to thrive, it would have to make its way alongside companies with much deeper resources.
Its solution: Become a partner, not a competitor. It started manufacturing devices for companies it might have otherwise lost sales to. Instead of sales and marketing, it focused on reliability and service, a decision that helped boost revenue about 50 percent since 2015, from $427 million to more than $600 million.
"Everybody wants to get into this space, because it's so rich with possibility and potential," President Mike O'Neal said. "For us to be successful, we had to change from just trying to sell a piece of hardware, (and) instead be a party to how can we help to evolve these systems in these homes — be relevant."
Acquired By Melrose
Now, the company that started in 1961 making garage door openers is a major player in the world of home automation and security. After closing a string of acquisitions, from a medical response business to a language processing company, the company was bought last summer by British investment firm Melrose Industries PLC for almost $1.3 billion. The purchase included a separately run ventilation, heating and cooling division.
People in the industry say Nortek has distinguished itself by offering an elegant product line responsive to the needs of its customers and end users, all without losing touch with distributors and installers.
"They really try to build and keep relationships," Sandy Jones, an industry consultant and board member of the Security Industry Association trade group, said of Nortek. She added the company has earned a reputation for being "consistently reliable."
If it can stay on top of consumer trends, O'Neal said, Nortek should be able to hold its own against a growing number of well-financed challengers heavy on innovation but light on keeping their devices compatible with existing product lines.
"It's nice that we can create new technology and innovate," said the former Gibson Guitar COO, referring more to other companies in the home and commercial security sector than his own. "But that technology and innovation has to fit within the ecosystem inside a home or inside a business."
Home Security Solutions Market
Maryland-based Stratistics Market Research Consulting estimated the global market for home security solutions in 2015 at $31.6 billion. It projected the market would grow to $57.7 billion by 2022, driven by innovation, increased fear of crime and greater consumer awareness, but limited somewhat by high installation costs.
Focused on the domestic market, Nortek is not yet much of an international player, though O'Neal estimated its global market share at about 10 percent, placing it second behind Honeywell International Inc. Other major players in the field include ADT Corp., Vivint Inc. and Tyco International PLC.
Through acquisitions and its own evolution, Nortek's product line has expanded to encompass a variety of residential and commercial automation and security solutions — from home control panels to glass break sensors — as well as health care products and services geared toward elderly people. It doesn't generally sell to the public, though its products are sold by Amazon, The Home Depot and Lowe's Companies Inc.
The company does some software development, but mostly it's a manufacturer. Nortek's engineering and design work is done in Carlsbad, Northern California, Utah and Seattle. The company also owns a manufacturing complex employing as many as 2,500 people in China. It has about 600 employees in North America.
Nortek's Revenue
O'Neal said Nortek's annual revenues are between $600 million and $700 million, up from a reported $427 million in 2015, when the company's security and control solutions segment was its third largest.
For many years, the company's name was Linear LLC. Under its parent, Providence, R.I.-based Nortek Inc., it made audio-visual systems and personal medical emergency reporting systems.
In 2013, Nortek acquired 2Gig Technologies, a Utah maker of all-in-one security panels for which the Carlsbad division had done manufacturing work. The $135 million purchase introduced Nortek to the concept of making security components for other companies, a hallmark of its current business model.
About two years later, in June 2015, Nortek bought certain assets of Seattle-based Numera Inc. at an undisclosed price. The health care company produces mobile personal emergency response systems and a cloud-based software platform that fit with Nortek's existing network of dealers in the segment.
Another important acquisition came in June the following year as Nortek picked up Nuiku, a 4-year-old language-processing platform suited to voice control of home security and other applications. O'Neal said the transaction gave Nortek a leg up in what has become a key functionality as consumers insist on being able to talk to the systems running their appliances.
Improving Products
More recently, Nortek has supplied custom-branded security and automation equipment to ADT and cable and telecommunication-associated companies such as AT&T Digital Life. In many cases, Nortek works to match other manufacturers' technology while introducing improvements that Jones, the security consultant, considers significantly easier to use than competing versions.
"One of the saddest things about security systems is they sometimes get too complicated for consumers to use," she said, adding that Nortek does not fit the mold in that regard.
Sanders also credited the company with growing organically and being creative with its product line.
Ken Kerr, president and CEO of Home Controls Inc., a San Diego-based stocking wholesale distributor serving the home security industry, said 2Gig has been particularly adept at keeping up with leading products in the segment. He also praised Nortek's other brands, including Core Brands, M&S Security Services and OpenHouse, saying they make "very, very good quality products."
But more than that, Kerr was complimentary of Nortek's work with distributors and installers. Other manufacturers in the industry leave little margin for the distribution channel, he said. By contrast, Nortek caters to the do-it-yourself market by working with dealers and companies that design and install home automation and security systems.
He said people across the industry are familiar with its brands — 2Gig, M&S and OpenHouse — as a result of "Nortek doing a good job and promoting themselves."
Voice Control Future
Consumer trends and new markets may decide the company's future. Already Nortek is tapping demand for voice control, which O'Neal said will drive business in the next five to 10 years. He said much will also ride on smart video technology that can alert people while they're at the market that they're low on eggs.
But it may be the acquisition by Melrose that opens up the bigger opportunity.
To date, Nortek has served North America almost exclusively. O'Neal said the new owner's international presence has inspired his company to adapt its products for use overseas, a lengthy effort that requires it to work with the various regulatory agencies in other countries.
This all means Nortek can't get comfortable, O'Neal said. He sees that as a good thing.
"The market is evolving," he said, "and we're evolving with it."
NORTEK SECURITY & CONTROL LLC
President: Mike O'Neal
Revenue: Between $600-700 million annually
Number of local employees: about 300
Headquarters: Carlsbad
Company description: Nortek is a leader in wireless security, home automation and personal safety systems in devices, with more than 4 million commercial, residential and personal systems deployed
Key factor for success: Focus on its customers' requirements and provide them with relevant technology