Major Reconfiguration in the Works for UCSD Main Campus
Monday, June 19, 2017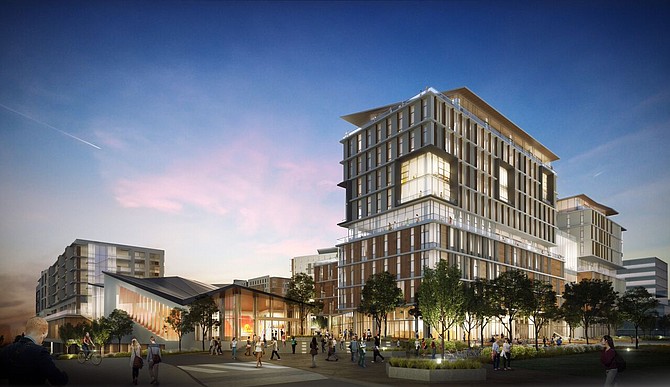 Six years from now, the main La Jolla campus of University of California, San Diego could be looking very different from what currently greets its students, staff and visitors.
Construction should be getting in gear starting next summer for what's expected to be a major, long-range reconfiguration of the campus, starting with a $490 million development called North Torrey Pines Living and Learning Neighborhood. It's described by the university as a "vibrant mixed-use community" and will include two new academic buildings — one for social sciences and one for arts and humanities studies — and a student-housing element with 2,000 undergraduate beds.
With completion expected in fall 2020, university officials said the community will also include 1,200 underground parking spaces, a market, dining hall and craft center. It will also be the new home for the university's existing Sixth College residential complex.
Officials said the North Torrey Pines project, spanning an area west of Interstate 5 between UCSD's Muir and Marshall Colleges, will also include realigning Scholars Drive, and making other public-realm improvements to Ridge Walk along the new neighborhood's eastern edge. Officials said the project has been designed to streamline the movement of people and bicycles through the campus core, among longtime goals of the university.
The campus is also aiming to make its residential and mixed-use commercial elements more transit-friendly — a goal that is likely being helped by new on-campus San Diego Trolley stations currently under construction as part of the larger regional Mid-Coast Trolley extension.
HKS is the project's design architect and Clark Construction is the general contractor, with construction of more than 1.5 million square feet of new elements expected to start in summer 2018. The focus will be on integrating housing, social and academic spaces.
"Unlike many traditional universities that silo academic, residential and administrative facilities into separate areas on campus, we are fusing together all aspects of the university experience — living, learning, socializing and working — into a single environment,'' said David Harper, HKS principal and global higher education leader, in a statement from the architecture firm.
The project is being designed for Platinum certification under U.S. Green Building Council sustainability standards, with natural lighting and ventilation and a solar-panel system that will make its parking structure net-zero in terms of energy usage. There will also be an "aerobic digester" to process food waste into electricity and fertilizer for the community gardens.
In planning for several years, the project is part of a more comprehensive update of the university's long-range development plan for the La Jolla campus, which hasn't been refreshed since 2004. More changes are likely to be part of the overall plan update, expected to be approved by University of California regents in 2018.
Other projects currently underway or in planning include new buildings for the university's biology, engineering and design programs. Another project, called Gateway Plaza in the center of campus, will house career, alumni and related student services, with two phases expected to be completed in 2021 and 2023.
Officials said all of these projects are intended to serve a growing campus enrollment that is expected to approach 40,000 within five years.