TECH: ELASTIC POLYMER GIVES CELLS THEIR SNAP; INVENTION IS 'DIRT CHEAP'
Bendable, Stretchy Batteries Pack Power Into Apparel
Originally published June 19, 2017 at 3:08 p.m., updated June 19, 2017 at 3:08 p.m.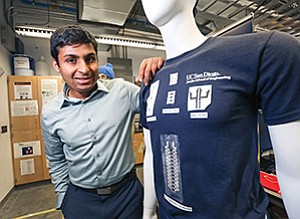 OCELLA
CEO: Rajan Kumar
Revenue: Pre-revenue
No. of local employees: Four
Investors: Institute for the Global Entrepreneur, Rajan Kumar
Headquarters: UC San Diego
Year founded: 2017
What makes the company innovative: Ocella produces rechargeable batteries made with an innovative polymer (made of polystyrene and isoprene) that makes them stretchable and form-fitting.
San Diego — Batteries and Spandex go together like …...