Software Startup SOCi Open Office in Austin
Wednesday, June 14, 2017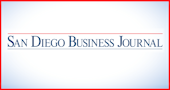 San Diego-based enterprise software startup SOCi, which created a web platform for managing social media, has opened an office in Austin, Texas.
The move comes about two months after SOCi closed an $8.5 million Series A financing round. That funding allowed the company to bring on more sales and marketing talent, the company said. The Austin office is the company's second.
"The opening of SOCi's Austin office is an exciting and important step toward growing our sales and marketing efforts and enhancing our ability to provide the best social media management workflow solutions for multi-location and multi-tenant brands," said Warren Kay, chief revenue officer at SOCi. "The new office will provide an efficient and fully-equipped workspace for our Austin team, giving them the necessary resources needed to help businesses scale social media, manage their online reputation and much more."