PROPERTY: MAKEOVER OPENS MORE SPACE, BRINGS IN LIGHT OF LA JOLLA SUNSHINE
Aventine's Creativity Still Holds Up Sans Six Columns
Originally published June 8, 2017 at 2:46 p.m., updated June 8, 2017 at 2:46 p.m.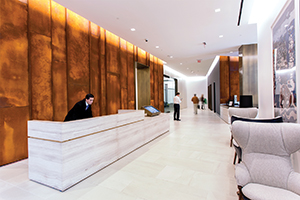 San Diego — Aventine is more than the name given to the quirky, mixed-use complex near UC San Diego.
It's one of the seven hills of ancient Rome, a concept that offered much inspiration to architect Michael Graves when he designed the 11-acre complex built in 1989 and 1990.
By 2015, the office and restaurant blocks had a new owner. Rockpoint Group spent $150 million on the property and decided it was time for change. It brought in the Gensler architecture and planning firm for a $6.6 million makeover the next year.
The exterior is pretty much the same as it was in 1990, but six of the seven columns in the office building's lobby — representing the seven hills of Rome — had to go. Only one column held up the building; the other six were for show, recalled Bess Wakeman, executive vice president at JLL.
Wakeman, who admires Graves' overall whimsical style, described a lobby that did not work, with awkward, cramped spaces. The place needed more room and light, said Wakeman, whose commercial real estate firm handles leasing in the 11-story, 220,000 square foot class A building.
So the six columns came out. So did all the orange, red and brown marble (still visible in the hotel next door). The lobby went white, with a new corten steel wall to provide a rusty, multitoned patina. Several spaces got new, multiple-section doors which can open wide on sunny days, blurring the distinction between indoor and outdoor space.
Rockpoint also added a lobby café with a big communal table. The result is like a hotel lobby, a place where a person might want to linger rather than pass through on the way to somewhere else, Wakeman said.
JLL invested an undisclosed sum in its own first-floor space at Aventine, pushing ceilings higher and pushing other boundaries. An industrial-sized door converts a conference room to a big, common area. "We spent a few extra dollars to make a real statement," Wakeman said.
As for the 417-room hotel property at Aventine? The Hyatt Regency La Jolla completed a $12 million revamp of its guest rooms, lobby, common areas and meeting space in 2014. A joint venture of Chicago's Walton Street Capital LLC and San Francisco's JMA Ventures LLC bought the property for $118 million in 2015.
Graves, who died in 2015, stayed away from the conventional. "If I had to make glass boxes all day, I'd rather practice law," he reportedly told a group in Portland, Oregon, where his 1982 city office building is an early example of the postmodern style.