Herde Joining Maravai LifeSciences Inc. as CFO
Monday, June 5, 2017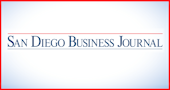 Maravai LifeSciences Inc. has recruited the former CFO of San Diego's publicly-traded biotech Sorrento Therapeutics.
After a little over a year at Sorrento, Kevin Herde is leaving to serve as vice president and chief financial officer at Maravai, a San Diego-based company that's on an acquisition spree.
Maravai is a partnership between a private equity firm called GTCR and two life science executives, Carl Hull and Eric Tardiff. The goal is to build a life science products company by acquiring businesses and accelerating their growth, according to a company statement.
Hull and Herde previously worked together at Gen-Probe, a San Diego company that was acquired by Hologic for $3.7 billion back in 2012.
"It is a great pleasure to have the opportunity to work with Kevin once again following our years together at Gen-Probe," said Hull, Maravai's CEO, in a statement. "He is a seasoned operator with over 20 years of experience in a variety of general management and finance roles. We look forward to his leadership in the finance, accounting and information technology functions of our emerging life sciences franchise."
Before Sorrento, Herde was VP of global blood screening and alliance management at Hologic.
Sorrento Therapeutics has not yet responded to questions regarding the company's now-open CFO position.