Organovo Awarded 3-Year, $1.7M NIH Grant
Monday, July 31, 2017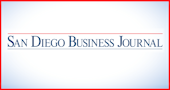 San Diego-based 3-D bioprinting company Organovo Holdings Inc. said Monday it was awarded a three-year, $1.7 million grant from the National Institutes of Health to study non-alcoholic fatty liver disease (NAFLD) with researchers at the UC San Diego School of Medicine.
The grant money will be disbursed over the three-year period based on the completion of research milestones, Organovo said.
Organovo (Nasdaq: ONVO) makes 3-D models of human liver tissue, intended for use in drug discovery.
"Traditional preclinical models often fall short in their ability to inform clinical outcomes accurately, largely due to the limited functionality of simple in vitro models and species differences," said Sharon Presnell, Organovo's chief scientific officer. "Our liver tissue has great potential to revolutionize high-value drug profiling and assess the development and progression of complex, multicellular disease processes such as NAFLD."
Earlier this year, Organovo's CEO of a decade, Keith Murphy, stepped down to "pursue entrepreneurial opportunities." He was replaced by Taylor J. Crouch, most recently CEO of clinical research organization eStudySite.