CRAFT: FROM MANAGEMENT TO DISTRIBUTION, MOVE MAKES SENSE
Monkey Paw Deal Gives Brewer a Stronger Hand
Originally published July 27, 2017 at 1:47 p.m., updated July 27, 2017 at 1:47 p.m.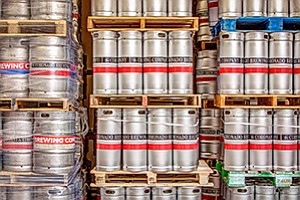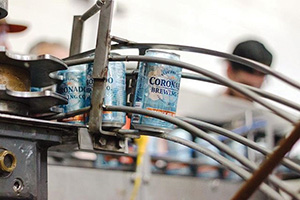 MONKEY PAW BREWING CO.
Founder/ Owner: Scot Blair
Headquarters: San Diego (East Village)
Started: 2011
Employees: 32
2016 Production: Approximately 700 barrels
CORONADO BREWING CO.
Founders/ Owners: Ron and Rick Chapman
Headquarters: Coronado
Started: 1996
Employees: 180
2016 Production: 39,095 barrels
San Diego — The acquisition of six-year-old Monkey Paw Brewing Co. by the larger and more established Coronado Brewing Co. comes at a pivotal time in the histories of both brewers.
In purchasing a majority stake in the younger brewer — with the price and stake percentage not disclosed — the 21-year-old Coronado company gets to share in the budding craft beer and spirits scene of downtown San Diego's East Village. That's where Monkey Paw maintains a loyal following of millennial-age beer aficionados at its 16th Street brewpub.
In exchange, Monkey Paw will eventually see a major expansion of its sales and distribution footprint. Coronado Brewing Chief Operating Officer Brandon Richards said the company will be allocating resources at its existing Bay Park facilities near Mission Bay, to eventually produce 3,000 to 4,000 barrels of Monkey Paw products annually.
At the high end, that's nearly six times the approximately 700 barrels that Monkey Paw produced on its own at the East Village brewpub, its sole production site.
The arrangement will give Monkey Paw access to Coronado Brewing's expanding retail distribution territory for its bottled and canned offerings, which now spans 16 states and 10 countries, with the brewer in the process of adding more international markets including China, Australia, France and Germany.
Preserving the Personality, Passion
As part of the deal, announced July 18 and expected to close in September, officials of both companies recently emphasized that Monkey Paw won't have to change anything about its East Village operations, culture or recipes.
Monkey Paw founder and owner Scot Blair retains an ownership stake in the company, and the deal does not include two South Park businesses that are also owned by Blair — South Park Brewing and Hamiltons Tavern.
"Coronado's commitment to our brand is why this is such an exciting time for our team," said Blair, a longtime advocate for craft brewer independence, in an email to San Diego Business Journal. "Nick (head brewer Nick Norton) and I will continue to develop our beers, brew the beers, and grow the brand in a way that keeps the integrity and quality of what folks have come to expect from Monkey Paw."
Scaling the Operation
"The only difference is now we can scale our operation, utilizing all the experience and resources of Coronado Brewing's amazing family," he said.
Leaders of the two companies said they have been friends for nearly 11 years, and the acquisition deal came together during the past three months after Blair approached Coronado Brewing's leaders, including co-founders Ron Chapman and Rick Chapman. Blair said after seven years spent getting Monkey Paw started and operating, the time was right to "look toward the future and explore alternative methods" for the growth and development of his company.
Because his company has extensive food and customer service experience at its three existing locations in Coronado, San Diego and Imperial Beach — as it prepares to open another satellite location in 2018 at IB's mixed-use Bikeway Village — Coronado Brewing's Richards said the arrangement will also give Blair crucial assistance with daily non-beer management matters.
"Scot will be just as involved in Monkey Paw as before, if not more so," Richards said in a recent interview. "Except, we'll be freeing up more of his time to focus on the beer-related issues that he's passionate about. He won't be worrying so much about how many cheesesteaks to order."
Coronado Brewing is the local region's fifth-largest beer-maker, based on its 2016 production of 39,095 barrels. It employs about 180 companywide, including about 60 in Bay Park, where it set up brewing and tasting room operations about five years ago after acquiring an industrial complex on Knoxville Street.
Bay Park has since grown to take on the bulk of Coronado Brewing's production and administrative operations, and Richards said the company may be adding two or three workers there to handle duties related to Monkey Paw production and packaging, likely starting in early 2018.

Coronado Brewing will first need some time to gear up various graphics and packaging for the Monkey Paw products, and once the transition is complete, he said the two companies' offerings should be able to coexist well in the marketplace.
The Acquisitions
"There are enough differences that Monkey Paw won't be cannibalizing sales of any of our brands," Richards said.
He added the arrangement overall will help the Bay Park facility operate more efficiently in terms of capacity usage, while production continues at current levels at Monkey Paw's East Village location, which employs 32.
This is the latest in a small series of local brewer acquisitions during the past three years. Earlier deals included the 2014 acquisition of East County's Alpine Beer Co. by San Diego's Green Flash Brewing Co., the 2015 acquisition of San Diego's Saint Archer Brewing Co. by MillerCoors, and the 2015 acquisition of San Diego's Ballast Point Brewing & Spirits by Constellation Brands.
A Culture of Independence
While craft beer-makers emphasize collaboration rather than conflict in their relationships with competitors, acquisitions of craft brewers by other craft brewers remain rare both locally and nationally.
That's largely due to a quest by most brewers to maintain independence in their cultures, recipe-planning and other operations, even as they grow sales and distribution clout.
For that reason among others, local beer industry analyst Vince Vasquez said he doesn't foresee an escalation in San Diego County beer mergers anytime soon, even after some companies have found valid business synergies from pairing up.
"I don't know how many more of those synergistic relationships are still left out there," said Vasquez, an independent industry analyst affiliated with National University in San Diego.
He noted that many of the local region's 100-plus brewers are content to either maintain their current size or to grow gradually by adding satellite tasting rooms on a neighborhood-by-neighborhood basis.
Others retain their independence while growing their production facilities on a geographic basis — for example, Stone Brewing Co. and Green Flash Brewing opening East Coast production facilities in Virginia, and Mother Earth Brew Co. making beer in Idaho.
Others are turning to internal structural methods aimed at fending off acquisitions by "Big Beer," most recently including San Diego's Modern Times Beer, which placed 30 percent of company stakes into an employee stock ownership plan. The brewer's goal is to eventually make the company 100 percent worker-owned.