EvoNexus Welcomes a Dozen Startups
Originally published July 27, 2017 at 2:26 p.m., updated July 27, 2017 at 2:26 p.m.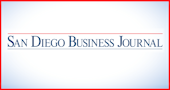 San Diego — EvoNexus just announced the names of a dozen startups that will enter its business incubators in downtown San Diego and University City.
Once again, it has selected a creative and diverse class.
For example, has anyone seen potential in those indoor skydiving venues? Tunnel Vision has. The business wants to provide virtual reality software, hardware and 360-degree video content to those venues, letting customers turn their visit into a skydiving excursion to any location on the planet.
Another company, GoGhost, is in the software space. It plans to serve the visual effects, animation and virtual reality industries with a new image format that reportedly saves money on overhead and cuts the need for storage space, processing time and wait time for artists.
Uprise Energy says it has designed, built and tested the world's first and only portable wind turbine. A single person can set it up in an hour, and once running, it's capable of providing electricity to a village of 100 people.
The new class of companies also includes Accel Robotics, CB Therapeutics, DoWhop, Elevada, GigaIO Networks, MiP.O.V., MG Therapies, Obsidian and Sourcify.
EvoNexus also named four companies to its newest incubator location, in Irvine.
Companies do not have to surrender equity to be part of the EvoNexus program, which is supported by The Irvine Co. Young businesses get office space, mentorship and access to capital as part of the program. Only one in 10 companies that apply get in. EvoNexus has helped 179 companies since the program started in 2009.