ARENA PHARMACEUTICALS BEGINS TO BOUNCE BACK FROM BELVIQ FAILURE
New Drug, New Attitude, New Day at Pharma Co.
Originally published July 25, 2017 at 7:59 a.m., updated July 25, 2017 at 7:59 a.m.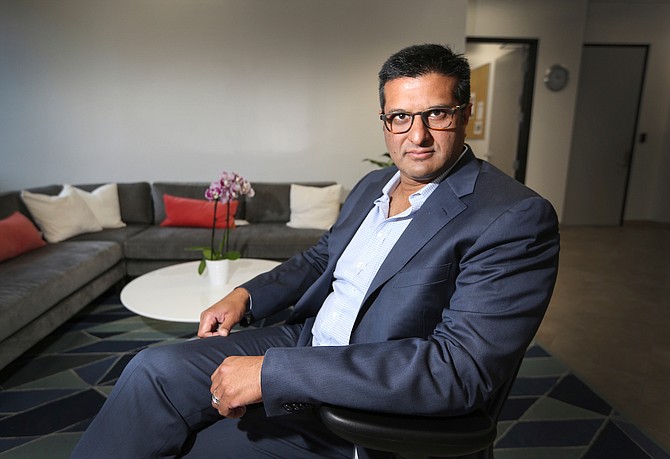 San Diego — Its diet pill was a commercial flop that almost sent Arena Pharmaceuticals Inc. to the grave. But now, following a major makeover, the company's new experimental medicines could bring renewed life to the San Diego biotech.
One medicine in particular has biotech investors buzzing, a drug that proved more effective in mid-stage human trials than anyone was expecting (more on that later). Over the past three months, the company's stock price, once in the gutter, has skyrocketed 80 percent. "Arena is back from the dead," said Jim Cramer, the TV personality of CNBC's "Mad Money." "I've got to tell you – I cannot believe this — it's still a buy."
Quitting Diet Pills
Here's why Cramer is surprised: Arena is best known for an obesity drug called Belviq, which took over a decade for Arena to bring to market. Once this product was finally approved for sale, doctors and patients weren't interested and sales never took off. In fact, most weight-loss drugs — not just Belviq — proved failures on the market. Disappointing sales made Belviq less of a cash cow and more of a burden, as the company was on the hook by the U.S. Food and Drug Administration to continue testing the drug's safety. The continued research would be expensive, and potentially not worth the money.
"The bottom line is obesity never fulfilled the commercial promise the company was based on," said Arena's fairly new CEO, Amit Munshi, who was brought in last year to "reset the company." All companies in the weight-loss space have suffered, Munshi said, including San Diego's Orexigen Therapeutics Inc.
So in early 2017, Arena officially bailed on the weight-loss vertical altogether, handing Belviq off to Arena's Japanese partner, Eisai Co. Ltd. The company made huge cuts to its workforce last July, laying off 100 people (73 percent of its staff). But to be clear, Arena had already downsized significantly at that point. In 2009, the company employed 500 people and its campus stretched across multiple buildings. Today, it employs 65 people and occupies one floor of one building.
Righting the Ship
Other than cutting staff, Arena has taken many measures to get back on track financially. Offloading Belviq got the company about $175 million back on the books over the next three years. In April, the company raised about $80 million in a stock offering. Then in June, when the company's stock price was dangerously close to penny stock territory, the company conducted a reverse stock split.
"Over 20 years, Arena had raised a substantial amount of money," Munshi said. "We had 300 million shares outstanding, and we had to become a stock most institutional shareholders could hold. They don't like to hold stocks below $5 or sometimes $10 thresholds." The reverse stock split consolidated 10 of Arena's shares into one.
Then in July, the company announced it was raising an additional $150 million in another stock offering. The company timed the announcement of this offering perfectly, just 24 hours after it released new data showing that Arena had promising medicines being developed in its labs. Although the company was asking a lot of its investors, it also dangled a new carrot: a promising pipeline of drugs. And now it has the cash to develop them.
Medicines and Money
Now we can address Arena's new and promising drug, the one that caught the attention of investors this month. That drug is called ralinepag, and it belongs to a class of drugs that brings in about $1.6 billion in cumulative global sales per year, according to Citigroup. The drug targets pulmonary arterial hypertension (PAH), a rare disease caused by high blood pressure in the arteries that connect the heart to the lungs. During the recent Phase 2 trial in PAH patients, ralinepag reduced pulmonary vascular pressure by 30 percent compared to the placebo. Investors were hoping to see 20 percent to 25 percent, so the results were impressive.
If this drug advances successfully through Phase 3 trials, it could signal meaningful revenue for Arena. The most recent drug to be approved in this class is a medicine called Uptravi, developed by multibillion-dollar Swiss drugmaker Actelion. In 2016, the first full year on the market, Uptravi sales totaled $240 million.
Ralinepag was designed to be more potent and more effective than Uptravi. For example, Uptravi only stays in the body for eight hours. Ralinepag, however, remains in the body for 24 to 26 hours, Munshi said.
Analysts Bullish
Biotech analysts who cover Arena are bullish on the company's prospects. J.P. Morgan analyst Jessica Fye wrote in her latest report that the drug looked competitive when comparing Phase 2 data for Uptravi (also called selexipag) with ralinepag's recent data.
"We are encouraged by the news today and we see a competitive profile emerging for ralinepag," Fye wrote. "Looking ahead, we see multiple potential catalysts for Arena shares…"
Fye goes on to note the potential promise of Arena's other two medicines: APD371 for pain management and a treatment for ulcerative colitis called etrasimod.
Interestingly, San Diego's big-time biotech Receptos Inc. was also developing a treatment for ulcerative colitis before it was purchased by Celgene Corp. for $7.2 billion. That drug was called Ozanimod, and was considered a hopeful "blockbuster drug" for its potential to bring in over $1 billion in annual revenue. Munshi said Arena's drug etrasimod is quite similar to Ozanimod. "We believe it's safer and potentially more efficacious (than Ozanimod)," Munshi said.
Now that Arena is back to biotech basics, investors will be watching the company's research very closely. As Fye put it, "While focus shifts to the company's development programs, we view clinical success of the next wave of assets as key for shares."
In other words, all eyes are on the data. Fye estimates that Arena will have Phase 2 data for etrasimod, and plans for ralinepag's Phase 3 trial, by early 2018.
Arena, which has a market cap of $839 million, was trading at $23.08 per share as of July 19.