Money Available to Fund Two Homeless Shelters, But Sites Needed
Thursday, July 20, 2017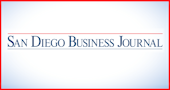 Anonymous donors are prepared to write checks totaling up to $1.6 million to fund two temporary shelters for 500 homeless people.
That is according to San Diego businessmen Peter Seidler and Dan Shea, who presented the shelter plan to San Diego media on July 20 at the University of San Diego.
It's up to local politicians to name sites for the shelters, Seidler and Shea said. They suggested spreading the locations across the county.
The shelters would be a stopgap measure as city leaders worked to provide more permanent housing for San Diego's homeless population, estimated at slightly less than 10,000 people.
"We live in a world of 80 percent solutions or 90 percent solutions," said Seidler, who argued the community needs to bring the homeless population down and reduce the number of deaths on the street.
Shea declined to name the donors. Funds would be handled by the Lucky Duck Foundation, started by Del Mar couple Pat and Stephanie Kilkenny.
Seidler, managing partner of the San Diego Padres, and Shea, a restaurateur, laid out their plan to buy and put up temporary, industrial buildings produced by Sprung Instant Structures Ltd. Buying and setting up one building would cost in the range of $700,000 to $800,000, Seidler and Shea said.
Seidler disagreed with one reporter's assertion that they planned to build a "tent city," though the Sprung structure is like a tent, with a metal framework and a heavy canvas covering.
The Cahuilla Casino in Riverside County has used a Sprung structure as its building for nearly 20 years.
The businessmen said their arrangement could house an individual for $16.67 per night.
Also speaking at the USD event were university President Jim Harris and Chancellor Constance Carroll of the San Diego Community College District. Carroll said 8 percent of her students were homeless.