Coronado Brewing Acquiring Majority Stake in Monkey Paw Brewing
Wednesday, July 19, 2017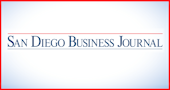 Coronado Brewing Co. is acquiring a majority stake in San Diego-based craft beer-maker Monkey Paw Brewing Co. for an undisclosed price. Officials of the two companies said the transaction is expected to close Sept. 1.
A joint statement released by the brewers said the deal does not include two South Park businesses that are also owned by Monkey Paw founder Scott Blair – South Park Brewing and Hamiltons Tavern.
This is the latest in a small series of local brewer acquisitions during the past three years. Earlier deals included the 2014 acquisition of East County's Alpine Beer Co. by San Diego's Green Flash Brewing Co., the 2015 acquisition of San Diego's Saint Archer Brewing Co. by MillerCoors, and the 2015 acquisition of San Diego's Ballast Point Brewing & Spirits by Constellation Brands.
Monkey Paw Brewing Co. was started by Blair in 2011 and has its flagship brewery and pub at 805 16th St. in downtown San Diego's East Village. Coronado Brewing, started in Coronado in 1996 by brothers Ron and Rick Chapman, is the local region's fifth-largest brewer based on 2016 production volume, with three current brewery and restaurant locations and another set to open soon in Imperial Beach.
The brewers' statement said the transaction was partly a response to "today's tumultuous beer climate," in which craft brewers locally and nationwide are seeing slowing sales growth compared with levels seen during the past five years.
"We are excited to bring Monkey Paw Brewing Co. into our family," Coronado Brewing Co. Chief Operating Officer Brandon Richards said in the statement. Richards said Blair and his team at Monkey Paw "have built a tremendous brand from the ground up, and their beers are incredibly well-respected."
Officials said the partnership will enable Monkey Paw to bring more of its beers to fans throughout Coronado Brewing's distribution footprint, and help diversify Coronado's offerings. The plan is to "grow organically," with the brewers working to expand Monkey Paw's draft accounts, refresh its branding and increase off-premise distribution.
Operations will remain unchanged at Monkey Paw's East Village pub, and the two brewers are looking at releasing new canned Monkey Paw offerings in the near future. "We have been looking for the opportunity to bring in a brand that fits our culture, and doing so allows us to realize our operational efficiencies," Richards said.
According to the beer news publication West Coaster, Monkey Paw produced just under 700 barrels during 2016. Under the latest deal, it will have the majority of its beers produced at Coronado Brewing's current facilities in San Diego's Bay Park neighborhood, while continuing to make beer on its 15-barrel production system in East Village.
Coronado Brewing produced 39,095 barrels in 2016, up from 36,000 in 2015, according to data supplied by local brewers to San Diego Business Journal.