Scorecard for Q2 Venture Capital Is Out
Sunday, July 16, 2017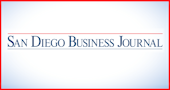 Venture-backed companies in the San Diego region took in 26 rounds of equity financing totaling $273.49 million in the second quarter of the year.
That's according to data from Dow Jones VentureSource, which recently released its second-quarter venture capital report.
The amount and number of deals in San Diego were up compared with the first quarter, during which local companies raised $243.94 million in 21 rounds.
The number of deals and the amount of capital raised was also higher in San Diego in the second quarter than it was in the region during the same quarter of last year: There were 26 deals compared with 21, with the rounds last year totaling $171.09 million.
Compared with the first half of last year financings in San Diego were down, however, from $672.85 million in the first six months of last year to $517.43 million this year.
But the number of deals were about the same: there have been 47 so far this year, and at this time last year there had been 48.
Tim Holl, a partner in the San Diego office of EY, said San Diego companies' financings don't seem to be deviating much from the region's performance in recent years.
"The trend has been about 100 deals (per year) in the last four years," he said. "It seems like we're about on par for where we've been."
As is typical for the region the majority of the financings were in the health care industry, which notched 11 deals during the quarter for total capital of $210.02 million — about 77 percent of the total venture capital raised. Information technology companies also had a strong showing, raising about $40 million in eight rounds.
Nationally, the information technology industry received the largest investment allocation during the second quarter of 2017, accumulating $4.65 billion through 329 deals — 27 percent of total capital raised. It recorded 6 percent more deals over the first quarter of 2017 and 42 percent more total capital.
Overall nationally in the second quarter there were more deals for more dollars than in the first quarter of the year, with companies raising $17.41 billion in 1,082 venture capital deals, a 13 percent increase in capital raised and a handful more deals.
Compared with the second quarter of 2016, when there were 989 deals for $17.05 billion, deal flow was up 9 percent and total capital was 2 percent higher.