Digital Marketing Agency Signs as Sole Office Tenant at IDEA1 Development
Friday, July 14, 2017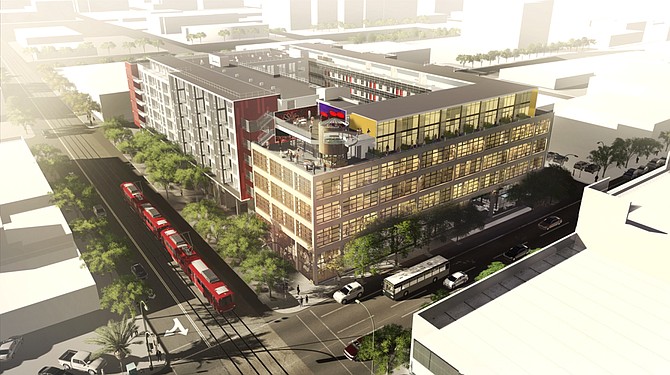 Seer Interactive, a Philadelphia-based digital marketing agency, has signed a long-term lease to become the sole office tenant at the mixed-use IDEA1 project in downtown San Diego's East Village.
According to brokerage firm Cushman & Wakefield, which represented the project's owner/developers, Seer Interactive has pre-leased 7,717 square feet of space in what will be the only single-tenant office in the project. Located at 1200 F St., IDEA1 is nearing completion with residential and retail elements, in addition to the office component and a courtyard with event space.
The project is being developed by Lowe Enterprises, LaSalle Investment Management and San Diego-based I.D.E.A. Partners, the latter firm led by developers David Malmuth and Pete Garcia.
The owners were represented by Cushman & Wakefield's Derek Hulse and Philip Roberts, and the tenant was represented by Steve Martini of Quality First Commercial. Financial and other terms of the lease were not disclosed.
In a Cushman & Wakefield statement, Hulse said Seer Interactive will occupy a space on the project's ground corner at F Street and Park Boulevard, with 18-foot-high ceilings and floor-to-ceiling glass windows. The office also has a glass roll-up door that opens into the project's courtyard known as The Hub, featuring collaborative space that that can be used for community speaking engagements and social events.
IDEA1 is among several projects by various developers that are underway or in planning stages, in an area of East Village known as the IDEA District. City and business leaders have geared planning to emphasize elements including innovation, design, education and the arts.
According to its website, Seer Interactive has a current office at 1510 Front St. in downtown San Diego. A Cushman & Wakefield spokesman said Seer will likely occupy the new space in early November.
"We chose the IDEA District because it's very important to us that we contribute to the economic development of areas on the brink of transformation and rejuvenation," said Seer Interactive CEO Wil Reynolds, in the Cushman statement.
"We opened our San Diego office in 2013 with three employees," Reynolds said. "Now, we have grown our headcount to 25 and IDEA1 will allow us to more than triple that in the near future."
Malmuth recently told San Diego Business Journal that developers are also in the process of finalizing lease agreements with undisclosed tenants to take the project's two retail spaces, totaling 4,800 square feet. IDEA1 also includes 295 apartments, and Malmuth said construction of the entire project is expected to conclude in October.