STAKEHOLDERS CALL ON PEERS TO BE PART OF HOMELESS SOLUTION
What Business Can Do
Originally published July 13, 2017 at 1:02 p.m., updated July 13, 2017 at 1:02 p.m.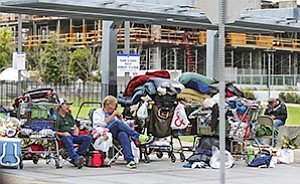 San Diego — Homelessness sits heavy on San Diego's doorstep, a seemingly intractable problem that can't be shoehorned into a one-size-fits-all box.
Just ask Padres General Managing Partner Peter Seidler, who sees it downtown where he operates in big business circles. Or Mikey Knab, who sees it outside his workplace, Ponce's Mexican Restaurant on Adams Avenue in Kensington, where he is director of operations.
The two businessmen come from different sectors, but both see a need for the business community to be part of the effort to reduce the swelling ranks of the homeless. Their efforts, and those of others, seek to tackle the issue piece by piece, bed by bed, stitching together the parts until they become whole.
Seidler and restaurateur Dan Shea, whose properties include Donovan's Steak & Chop House, decided more than a year ago to look into the homeless issue in depth. Knab is a member of Main Street Alliance, a small business advocate. Its local director, Karim Bouris, noted that small business owners in Point Loma, East Village and North Park have identified the homeless population as one of the biggest issues affecting their businesses.
Homeless Count
San Diego's homeless population is growing. A January census conducted by the Regional Task Force on the Homeless found 9,116 homeless people, up 5 percent from 8,692 in January 2016. Census takers found 3,495 people in shelters during the recent count. Some 5,621 were described as "unsheltered."
The situation, at its most fundamental level, is "a crisis of a lack of affordable housing," said Jim Vargas, CEO of Father Joe's Villages, one of the area's largest homeless services providers. The high cost of renting in the San Diego market (a one-bedroom unit typically goes for $1,700 per month) coupled with the low vacancy rate is a "very toxic" combination for the population that his agency serves, Vargas said. More than one source mentioned that San Diego lost 10,000 single-room occupancy units within six years, with a minimal number of replacements.
In March, Father Joe's Villages announced a plan to provide 2,000 low-income homes, capable of housing 2,500 people, to the local inventory. Central to the plan is an initiative to transform motels outside of downtown into 1,240 apartment units.
Vargas — who goes by the name Deacon Jim — said Father Joe's offers a wide variety of support services, not the least of which is job training. Some clients have landed work at Seasons 52 Fresh Grill, Allied Universal and GoStaff Inc.
"We're in the business of helping people get jobs. It's the only way to break the cycle," he said.
Mobilizing Support
Seidler said he and Shea got involved for personal reasons and are acting out of compassion.
"The business community was not doing anything of substance here," Seidler recalled.
Everything about their push is to be fact-based, Seidler said. "Let's take the side objectives that people have out of our discussions, the self-interest. What's the right thing for the global good, as best as our city can determine?"
The two also indicated that a practiced, critical eye for running a business might just be what the social services network needs.
Current government and nonprofit services have to step up their game, they said.
"My firm invests in businesses that are typically run quite well, but can get better," Seidler said, referring to his work at Los Angeles-based Seidler Equity Partners. "We're finding a lot of that here" in the world of homeless service providers.
Seidler said there are plenty of opportunities for people to provide business expertise among the more than 100 local providers serving various needs, including specialists in mental health, veterans' services, teen services and addiction.
"How are these organizations run?" Seidler asked. "What's their corporate governance? What's their board look like? How are their decisions made? How do we measure their outcomes?"
After a year of study, Seidler said philanthropists ask him where a contribution might have the most impact.
"In some cases, the dollar has a great bang for the buck. In other cases it falls right into a black hole and doesn't do anything because the service provider, often with all the best of intentions, just doesn't have a …." He paused for a second and said, "you know, it's just not run well."
How to make the system run better? Seidler and Shea have assembled a group of like-minded business people who hold weekly meetings on the topic.
They try to make the monstrous problem manageable by carving out a small piece for each participant. "We call it the puzzle with a thousand pieces," Shea said.
Meetings are private and by invitation. Shea and Seidler said interested business people who would like their own piece of the puzzle are welcome to get in touch.
Looking for Models
The two see valuable lessons in how others have handled the homelessness issue.
"There are other cities that started 10 and 15 years ago getting on this issue, and they created the political will and the business will and the philanthropic will" to address it, Shea said. "So they're just way ahead of us. There's no reason we can't get caught up."
Seidler and Shea said they have studied how Phoenix and Houston — both warm-weather cities — have successfully approached the issue. Some lessons are transferable, but not all of them.
"There's a lot of land in Houston and a lot of land in Phoenix — and not a lot of land in San Diego," Seidler said. "Low-cost housing is much trickier here than in those two places."
One metropolitan area that will definitely have an influence on San Diego is Salt Lake City. Gordon Walker, who is credited with getting many of Utah's homeless off the streets, was recently named CEO of San Diego's Regional Task Force on the Homeless. He is still settling into the job.
Other changes seem to be in the works. The San Diego media seems to be paying more attention to the homeless issue, and new proposals are coming from various directions.
During a late June gathering about the future of homeless services at the University of San Diego, Shea and Seidler floated an idea to put the homeless into temporary shelters.
The plan calls for one 250-bed shelter in each of the nine San Diego City Council districts. Shelters could be portable aluminum and fabric buildings from Sprung Instant Structures Ltd. (Until recently, the city used two Sprung structures for its winter shelter program.)
The businessmen worked out the cost of housing an individual, saying it came to $500 per month — or $16.67 per night.
Whether the nine-shelter proposal could clear all necessary political hurdles is doubtful, Shea said. But it would get 2,250 people off the streets.
Best Practices
Shortly before the noon lunch rush at Ponce's in Kensington, Knab sat down at a restaurant table with a binder of neatly written notes. He has been tracking local government's efforts to confront the homeless issue.
His advice is to learn the game and start keeping score.
People running neighborhood businesses need to educate themselves on the issue and support best practices and policies, Knab said, mentioning the July 5 announcement from the San Diego Housing Commission. The commission has proposed allocating $80 million over three years to provide housing for low-income people.
What's more, Knab said business owners should support politicians who are doing work they agree with.
Next to him was Bouris, San Diego project director for the Main Street Alliance, an organization of small business owners who support a living wage and affordable health care. In June, the local group criticized San Diego County's $1.7 billion budget surplus, arguing that more money should be spent on solutions for housing and the homeless.
They pointed out that existing safety-net programs such as CalWorks welfare-to-work program and food stamps are not at maximum enrollment.
County supervisors in the fall are expected to vote on spending $25 million in reserve funds on affordable housing. That was proposed on June 20.
Time to Act
Vargas said the time to act on the homeless issue is now. "We're at crisis proportions," the social services provider said.
Shea knows his concept of putting temporary shelters in all nine council districts won't be universally admired.
But he presented it to his audience at USD with a quote attributed to Walt Disney:
"The way to get started is to quit talking and start doing."