Brick-and-Mortar Grocers Show No Sign of Slowing
Originally published July 13, 2017 at 3:15 p.m., updated July 13, 2017 at 3:15 p.m.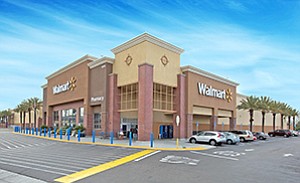 San Diego — Amazon Inc. made big headlines with its plan to buy grocer Whole Foods Market Inc. for $13.7 billion, which likely has many competitors wondering whether they'll need to boost their own tech-based delivery capabilities when it comes to getting fresh food into the hands of their customers.
But for now, there's still plenty of old-school, brick-and-mortar grocery retail expansion happening in San Diego County. For instance, Wal-Mart Stores Inc., which recently topped the Fortune 500 list of the nation's largest companies by revenue for the fifth consecutive year, has had a very busy 2017 in the local market.
In the past month, the Arkansas-based retailer opened a new Wal-Mart Supercenter at 875 East H St. in Chula Vista, employing about 300 workers in a vacated former Kmart building. This is the fourth Chula Vista store for Wal-Mart, which operates 28 stores countywide under various small and large formats.
Also in June and early July, Wal-Mart completed multimillion-dollar renovations of its existing Supercenter at 1800 University Drive in Vista; and its existing Wal-Mart at 710 Dennery Road in southern San Diego near Otay Mesa. Officials said the stores have new elements including an updated electronics department with interactive displays, a dedicated fabric department and, at the Vista location, a "Wal-Mart Pickup" area near the front of the store for those getting items they've already purchased online.
Rival Target Corp. also continues to expand locally. This November, it plans to open a new Target store with a grocery section at 471 College Blvd. in Oceanside – another former Kmart – which will be its second Oceanside store and its 22nd in San Diego County. Target is also reportedly eyeing a site in San Diego's Ocean Beach neighborhood – currently housing Newport Avenue Antique Center -- for a small-format store likely similar to one that it opened in South Park in 2015.
Other small-format grocers remain quite active in San Diego County. Emeryville-based Grocery Outlet Bargain Market on July 6 opened a new store at 881 Palm Ave. in Imperial Beach, and a company spokeswoman said another opening is planned for Aug. 3 in San Diego's Allied Gardens neighborhood near Grantville. Those follow close behind last month's opening in Fallbrook and bring Grocery Outlet's countywide store total to 16.
Also, discount grocer Aldi by year's end is planning to open in part of a space that formerly housed Sports Authority on West Valley Parkway in Escondido. That will be Aldi's second Escondido store (it currently has one on East Valley Parkway), following other prior debuts in Vista and Chula Vista.