BREWING: MODERN TIMES PUTS 30% OF SHARES INTO STOCK PLAN
Brewer Puts ESOP to Work for Co., Culture
Originally published July 13, 2017 at 1:23 p.m., updated July 13, 2017 at 1:23 p.m.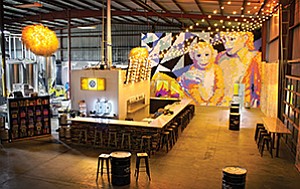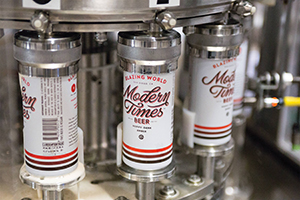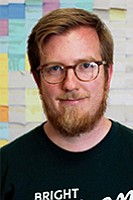 San Diego — It's been used sporadically in the U.S. beer industry to keep craft brewers independent: grant ownership shares to workers via an employee stock ownership plan (ESOP).
San Diego's Modern Times Beer recently became the first in California to adopt that strategy. "My goal is to influence other breweries in San Diego and beyond to take this step, too," said Jacob McKean, founder and CEO of the 4-year-old Modern Times, based in Point Loma. "This is certainly one of the most concrete steps we can take to keep craft independent, and that's worth fighting for."
McKean and others note there are many other bottom-line reasons for going the ESOP route, which in San Diego County has been taken most frequently by companies involved in construction, engineering, architecture, defense and other contractor-focused industries, but so far not craft brewing.
For his company, McKean said there were several factors in the decision to place 30 percent of ownership shares into an ESOP, after Modern Times' leaders repurchased shares that were held by outside investors. Specific financial figures were not disclosed.
The anticipated benefits include tax savings, improved worker retention and recruitment, and the creation of a permanent long-term buyer for any remaining shares, including McKean's, in the event that he decides to step away from the company someday.
The brewer plans to gradually increase the ESOP share percentage in coming years until it reaches 100 percent, effectively making its workers — currently numbering 118, including 98 full-time employees — co-owners in the company.
"The pros were many: achieving an outstanding return for our investors, maintaining our independence, rewarding the employees who have been instrumental in our success, building on the collaborative culture that's so integral to the company, and creating a sustainable ownership structure that will replace me when I'm ready to move on," McKean said.
82% Increase in Volume
The changeover comes as Modern Times has seen significant growth in production and sales from its flagship brewhouse and tasting room in Point Loma and a satellite tasting room in North Park. While not disclosing revenue, the company reported a production volume of 40,500 barrels during 2016, an increase of nearly 82 percent from the prior year's 22,300 barrels.
The company's bottled and canned beers, such as Lomaland and Orderville, are also distributed throughout California, Nevada, Arizona, Hawaii and the Pacific Northwest, along with select international markets.
The company, which also roasts and sells coffee beans at its flagship facility in Point Loma's Midway District, opened a cafe there last fall, and it has additional brewing and restaurant operations in the works in Encinitas, downtown Los Angeles and Anaheim.
While craft beer now employs more than 6,000 people at 140-plus venues throughout San Diego County, ESOPs were completely absent locally and statewide in the industry before Modern Times' action.
According to the latest available data from the nonprofit National Center for Employee Ownership (NCEO), which tracks industry trends, the local region as of 2014 had approximately 60 firms with some type of employee stock ownership.
Many of those are involved in construction and industrial-related contracting. In 2016, the NCEO ranked San Diego-based Kleinfelder Inc., an engineering and consulting firm, at No. 63 among the nation's 100 largest companies that are at least 50 percent owned by their employees.
Other prominent local firms with ESOPs, though not in the top 100, include Welk Hospitality Group Inc., Reno Contracting Inc., and architecture firm Carrier Johnson + Culture.
Crafting ESOPs
In the beer world, the move toward employee ownership has been taken primarily by some of the larger U.S. craft producers, including Colorado's New Belgium Brewing Co. (the fourth-largest by sales volume in 2016, according to the Brewers Association trade group), Oregon's Deschutes Brewery (No. 8), Boston's Harpoon Brewery (No. 18), and Colorado's Odell Brewing Co. (No. 27) and Left Hand Brewing Co. (No. 44).
Loren Rodgers, executive director at the Oakland-based NCEO, said he would not be surprised to see ESOPs become more commonplace in beer hubs such as San Diego County, especially as company owners — including a large contingent of baby boomers and Gen-Xers – reach retirement age in coming years.
Many of those owners will want the companies to maintain their original workplace cultures, and ESOPs provide one way to reward employees and align the priorities of workers with those of the owners.
"ESOPs tend to fit in well with craft beer because those owners are very counter-cultural and protective of their independence, and unlikely to sell out to a larger company," Rodgers said.
ESOPs are retirement plans in which a company contributes its stock, or money to buy the stock, to the plan for the benefit of employees. As overseen by the U.S. Department of Labor, the plans maintain an account for each participating worker, with shares of stock vesting over time before an employee is entitled to them. Stock shares are distributed at the time of events including a worker's termination, retirement, death or disability.
According to the NCEO, there were 6,717 ESOPs in effect at U.S. companies in 2014. While the number of plans has gradually declined nationally since 2011, the number of workers served by ESOPs has been rising. The plans nationwide had more than 14 million total participants in 2014, up from 12 million in 2005 and 13.5 million in 2010.
The Drawbacks
Starting at 30 percent ownership by workers, Rodgers said the plans can offer company owners and participating employees significant tax benefits, including deferred taxes on capital gains, though many companies have started their plans at 2 percent employee ownership.
Among the drawbacks, depending on the amount of stock being re-acquired and transferred to workers, is an ESOP establishment process that can be lengthy and expensive, often requiring a team of lawyers, accountants and other consultants to appraise stock and arrange financing. Because ESOPs require annual financial appraisals for federal reporting, some of those professionals will be retained well beyond the establishment process.
Setup costs generally rise with the dollar value of the stock being purchased or transferred, and the process can become complicated when multiple lenders are involved. Rodgers said NCEO's own research has found that about one-third of ESOP changeovers nationwide cost firms less than $75,000 in administrative and financing costs, another third cost more than $200,000, and the remaining third come in somewhere between $75,000 and $200,000.
Also, according to a 2015 report by the Beyster Institute at UC San Diego — which enumerated several benefits of ESOPs, including the potential for worker wealth-building with less volatility than some 401(k) plans — ESOPs don't necessarily make companies immune to takeovers by Big Beer.
Commitment to Company Culture
One issue is that ESOPs by law are forbidden to pay more than fair market value for stock that is purchased; a potential Big Beer acquirer is under no such restriction. In the end, the UCSD report concluded, long-term brewer independence will still hinge on commitment from company leadership to the operation, with "continual confirmation of the culture."
While not publicly disclosing dollar figures, company leaders said Modern Times Beer repurchased 30 percent of its total equity from 11 inactive investors, via a bank loan from Comerica and cash from the company, and placed it into the ESOP. Founder McKean retains majority ownership.
The process was overseen by Michael Harden of Ambrose Advisors, which handled deal structure, valuation and lender selection, and the brewer has retained Neil Brozen of Ventura ESOP Fiduciary Services to oversee the plan in an independent role.
"It was a 15-month process with a lot of moving parts and a great deal of decisions to make, especially around the design of our employee ownership plan, as well as choosing the consultants, lawyers, and bank," McKean said. "It wasn't easy to pull off, especially after only four years in business, but it's already proven to be worth it."