Raken Had Role in Construction of NFL Stadium in Atlanta
Friday, July 7, 2017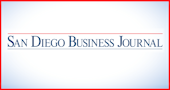 A San Diego startup played a role in the construction of the new $1.6 billion National Football League stadium in Atlanta, a facility that will be home to the NFL's Atlanta Falcons and Major League Soccer's Atlanta United teams.
Raken, which is based in Carlsbad, developed an app that allows contractors to fullfil their daily reporting requirements from the field via mobile phone. The company's software streamlines the reporting process by collecting the digital data and producing reports as needed.
Georgia-based contractors Peachtree Mechanical Inc., which did HVAC and domestic water piping for the stadium, and Superior Rigging & Erecting, used the company's software while on the stadium project, Raken said.
The 83,000-seat facility, slated to host its first matchup Aug. 26 when the Falcons will face the Arizona Cardinals in the first 2017 preseason football game, features an eight-panel retractable roof, a circular LED screen three times larger than any other in the NFL and a 100-yard bar that stretches the length of the football field in the stadium's upper concourse.
PMI was twice named contractor of the month and recognized several times for its efficient scheduling, documentation and project execution while using Raken software on the project, the Carlsbad company said.
Superior Rigging project manager Andrew Godfrey said the firm, after using Raken software while on the stadium project, has decided to use it on all its jobs expected to last more than three weeks.
The company's software has been used in more than 13 countries by firms including Clark Construction, AECOM, Skanska, Whiting-Turner and Hensel Phelps, Raken said.