Modern Times Beer Puts 30% of Stock in Employee Plan
Friday, July 7, 2017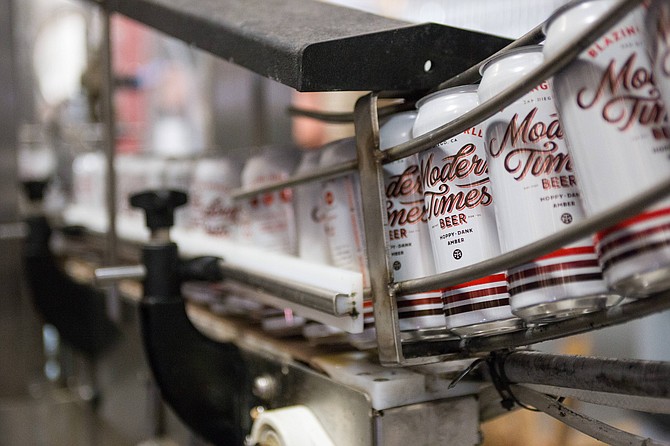 San Diego-based Modern Times Beer has created what it touts as California's first employee stock ownership plan (ESOP) to be established by a craft brewer.
The company announced July 7 that 30 percent of shares are now held in an ESOP, after Modern Times' leaders repurchased shares that were held by outside investors. Specific financial figures were not disclosed by the privately held company.
Jacob McKean, founder and CEO of the 4-year-old company, said in a statement that the new setup will allow workers to "benefit directly from the company's success as co-owners." He said the changeover is an extension of the company's existing values, culture and collaborative work environment.
"My hope is that this will point the way forward for other businesses in our industry and beyond," said McKean, who retains majority ownership of Modern Times.
Officials said while 30 percent of the company is currently employee-owned, the brewer's goal is to work toward 100 percent employee ownership. The Modern Times ESOP was overseen by Ambrose Advisors, which handled deal structure, valuation and lender selection, and the company has retained Neil Brozen of Ventura ESOP Fiduciary Services to oversee the plan in an independent role.
While not disclosing revenue, the company said it brewed 40,500 barrels during 2016, an increase of nearly 82 percent from the prior year's 22,300 barrels. The company operates a 30-barrel production brewery and tasting room at its flagship Point Loma location, with a satellite tasting room in North Park.
The company's bottled and canned beers, such as Lomaland and Orderville, are also distributed throughout California, Nevada, Arizona, Hawaii and the Pacific Northwest, along with select international markets.
Operators said Modern Times Beer plans to open new locations in downtown Los Angeles and Anaheim by year's end, both featuring brewing facilities, restaurants and specialty coffee shops. The brewer has also been roasting and selling coffee beans at its Point Loma facility since its start, and last fall opened an on-site cafe there