Slantrange Signs Contract With Bayer CropScience
Thursday, July 6, 2017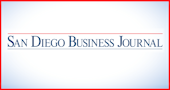 Slantrange Inc., the San Diego business that helps farmers monitor the health of their crops using remote sensors carried aloft by drones, said on July 6 that it has signed a data collection and analysis agreement with Bayer CropScience LP.
Financial aspects of the deal were not disclosed.
Slantrange does not make unmanned aircraft. Rather, it makes sensors and software for drones. The sensors and software monitor fields by evaluating the quality of light coming off of them.
Under the deal, Slantrange will provide Bayer with data and information about three key crops in specific test fields. The fields are in North America.
"The Bayer team is the ideal company to take full advantage of the power and scalability of our analytics solutions," Michael Ritter, CEO of Slantrange, said in a prepared statement.
"We are very excited to work with Slantrange to support our research and development efforts into high-throughput phenotyping," said Greta De Both, global crop efficiency manager for breeding and trait development at Bayer. "Slantrange's industry-leading sensor and analytics technology adds valuable and unique new metrics to our research and breeding programs that will improve our ability to characterize plant development."