Local Cos. Get Big-Ticket Items in Rough Draft of Defense Budget
Originally published July 6, 2017 at 2:50 p.m., updated July 6, 2017 at 2:50 p.m.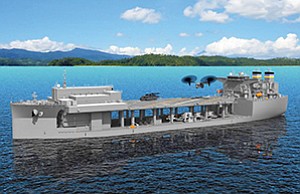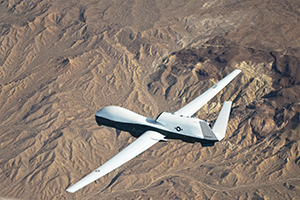 San Diego — A rough draft of the fiscal 2018 Pentagon budget is out, and as usual, it includes some big-ticket purchases from San Diego's aircraft makers and shipbuilders.
The National Defense Authorization Act for 2018, introduced in the House of Representatives in late June, is now making its way through Congress. It must be approved by both houses and signed by President Donald Trump. It also must be reconciled with the defense appropriations bill to make a final defense budget. The federal fiscal year begins Oct. 1, though budgets are not always approved by that deadline.
Under the preliminary bill taken up by the House, Northrop Grumman Corp. would provide three aircraft from its Global Hawk family for $745.7 million. It was not immediately clear if these were Global Hawks for the U.S. Air Force or Tritons for the U.S. Navy. Northrop Grumman (NYSE: NOC) runs the high-altitude unmanned aircraft program from Rancho Bernardo and builds the aircraft in Palmdale. The Navy Triton carries a seagoing sensor package.
The preliminary budget bill calls for General Atomics Aeronautical Systems Inc. to provide 17 aircraft from the Predator family for the U.S. Army (up from 11 aircraft in the president's budget request). It also calls for GA-ASI to provide 16 heavier Reaper aircraft for the U.S. Air Force. GA-ASI builds the unmanned aircraft in Poway. The business is part of privately held General Atomics. GA can probably look forward to another lucrative year of providing support services to its aircraft.
The five U.S. Navy ships in the preliminary 2018 budget include one Lewis B. Puller-class expeditionary support base ship, which would be built in Barrio Logan at General Dynamics NASSCO. The shipbuilding program began life under another name, mobile landing platform. NASSCO said in January that it has begun preliminary work on the ship. Shares of General Dynamics trade on the New York Stock Exchange under the symbol GD.
The preliminary budget calls for 87 F-35 Lightning II fighter aircraft. Airframes are not built here; however, the plan means more electronics orders for Northrop Grumman's radio business in Rancho Carmel.
The act calls for a total base budget of $613.8 billion (including $20 billion for the Department of Energy), with extra war funding of $64.6 billion. The preliminary budget supports a Navy of 323,000 sailors and officers, and 59,000 reservists.