Hotel Del Coronado Joins Hilton's Curio Collection After Management Change
Thursday, July 6, 2017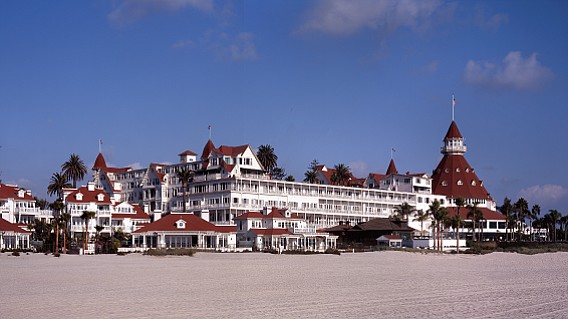 Its name will not be changing, but the iconic Hotel del Coronado by month's end will be operating as a Curio Collection by Hilton property, following a management switch to Hilton Hotels & Resorts.
The Hilton website indicates that the 129-year-old hotel by the end of July will be booking reservations under the new management, following a change made recently by the Coronado property's owner, New York-based Blackstone Group.
Hilton officials have said in published reports that the Coronado hotel's name will not be changing on its exterior, but Curio Collection tie-ins will be noted inside the hotel via small signs or plaques. Hilton Hotels will be marketing, managing and booking rooms at the property.
Curio is a global luxury brand of Hilton comprised of about 45 hotels, including many that were formerly run as independent properties outside of a major chain brand. The collection includes San Diego's Hotel La Jolla.
The Coronado hotel was previously managed by KSL Resorts, which is also a former minority owner of Hotel del Coronado. Blackstone currently owns about 20 percent of Hilton Hotels' parent company, Hilton Worldwide Holdings Inc., selling off stakes in recent years after buying the hotel company in 2007.
Blackstone Group had planned last year to sell Hotel del Coronado as part of a larger $6.5 billion portfolio deal to China's Anbang Insurance Group Inc. But the transfer was apparently called off due to federal government concerns about the hotel's proximity to local U.S. Navy bases.
The 757-room Hotel del Coronado opened in 1888 and is located at 1500 Orange Ave.