TECH: BIG COS. OFFERING PROGRAMS TO DIVERSIFY STAFF
Coding Boot Camps Tapped for Talent
Originally published July 6, 2017 at 12:37 p.m., updated July 6, 2017 at 12:37 p.m.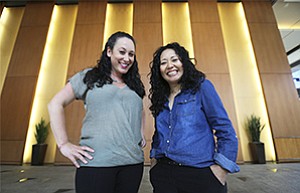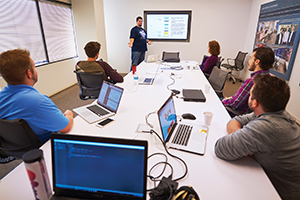 San Diego — Corporate giants in San Diego are starting to hire software engineers without computer science degrees, testing out talent from the newly popular coding schools and boot camps in California.
Both Qualcomm Inc. and software titan Intuit Inc. have launched internship or apprenticeship programs that specifically look to these alternative schools for new hires. Both organizations say the goal is to leverage diverse talent to be more competitive in the market.
Coding boot camps are still a relatively new concept. They are typically three-month programs that teach students tailored curriculum for software engineers.
High demand for computer programmers led to an explosion of coding boot camps over the past few years, with graduates increasing from 6,740 in 2014 to about 18,000 by last year, according to Course Report.
Just in the last few years, San Diego has become home to Dev Bootcamp, Origin Code Academy, LEARN Academy, SoftStack Factory, and several short-term coding camps based out of universities.
'Turning a Speedboat'
Historically, corporate giants have been uninterested in coding school graduates, said Jeff Winkler, founder of Origin Code Academy.
"They didn't think people could learn anything in only three months," Winkler said. "They're probably seeing it work at other businesses, and realizing it's not as risky as they thought."
Winkler said his graduates have been recruited by Sony Corp., Hewlett-Packard and Qualcomm, but not enough that he'd call it a trend. The vast majority of his graduates are employed by small to midmarket companies in San Diego, like Mindtouch Inc. and GreatCall Inc.
"The medium-sized companies are our bread and butter," Winkler said. They have the ability to easily adjust their hiring processes, while bigger companies have a harder time of it.
"They're trying to turn a cruise ship, whereas Mindtouch is turning a speedboat," Winkler said.
'Second Career People'
Both Intuit and Qualcomm, however, say they see value in the diverse talent coming out of coding schools.
It's true that coding boot camps tend to attract a more diverse demographic than students graduating from university, Winkler said.
These are often older individuals making a career change. Perhaps they went to school for business or psychology, but decide later in life that they want to be software engineers.
"These are second-career people," Winkler said.
Kimbra Brookstein was recently recruited by Intuit to lead a diversity initiative called Tech Women at Intuit. She previously did marketing for Dev Bootcamp in San Diego.
Brookstein said coding schools are generally more diverse than computer science programs.
"We got a huge variety of students at Dev Bootcamp, but often it was people stuck with a salary limit who saw value in pivoting," Brookstein said. "We would get a lot of people in finance and accounting, and a lot of teachers."
Diversity Factor
There are also a lot of women in these programs. Origin Code Academy tends to have about 30 percent women in their classes, Winkler said. That's in contrast to computer science programs in universities, which historically report very low female attendance.
"By disrupting our model of traditional methods of hiring talent, we're hoping to create diversity of thought," said Aliza Carpio, the person in charge of brand and culture at Intuit. "Companies with high diversity outpace their competitors."
Carpio said that's the according to business studies from Harvard Business Review, among other sources.
Courtney Lach, the manager of staffing at Qualcomm, said diversity is especially handy in product development.
"Engineers should be representative of the population they're building for," Lach said. "When they're designing and testing a product, they need to know how it would be used."
Voice recognition technology, for example, would be less effective if only designed by a team of male engineers rather than female engineers.
The Beginning Stages
While these two tech giants in San Diego say they see value in boot camp graduates, their apprenticeship programs are still in pilot mode and the numbers are still very small.
Qualcomm's three-month internship for "nontraditional" students had six interns this summer, with only two of those interns coming from boot camps (Dev Bootcamp and Code Academy).
The applicant pool for the program attracted 30 percent boot camp graduates, however.
Intuit's program is a little more ambitious. The company decided to stretch its program to a full year, allowing students to get the foundational training they need to perform well at any company. The company's pilot started with four people out of two boot camps, the all-women Hackbright Academy and Dev Bootcamp in San Diego.
Unfortunately for Intuit, one of the four students was recruited out of Intuit by Google only a few months into the program, Carpio said.
Although efforts remain small in the beginning stages, Winkler said the programs shows Qualcomm and Intuit are warming up to boot camps.
"The fact that they're even open to starting these programs shows they were miles past where they were 12 to 18 months ago," Winkler said.