PointPredictive Closes Series A Funding Round
Wednesday, July 5, 2017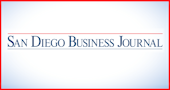 San Diego analytics startup PointPredictive announced Wednesday it has closed a Series A funding round led by Mosaik Partners, a San Francisco-based expansion-stage venture capital fund.
The company is not disclosing the amount, but Mosaik has previously announced investments ranging from $1.8 million to $15 million.
PointPredictive uses machine learning to detect and defend against auto, mortgage and retail lending fraud, although its primary focus is auto lending.
PointPredictive has brought together a group of auto lenders, modeled after a consortium established years ago by some of the leaders at PointPredictive to take on mortgage fraud, from which it collects anonymized data to inform its predictive models.
"With fraud losses reaching historically high levels here in the U.S., we believe PointPredictive's technology and consortium approach will become the standard in lending fraud detection," said Miles Kilburn, partner at Mosaik. "What interested us in PointPredictive is that they have a proven management team, differentiated technology, a working solution that delivers a compelling ROI to their clients, and explosive growth potential with lenders lining up to participate."
Under the funding agreement Mosaik will take a minority interest in PointPredictive; Kilburn will join the company's board of directors.
"We're using the funding to increase our team of fraud scientists, fraud experts and industry thought leaders that will help us revolutionize fraud detection in auto lending and beyond," said Tim Grace, CEO of PointPredictive.