Vista Equity Partners Invests in PayLease
Monday, July 3, 2017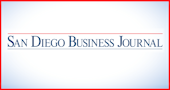 Vista Equity Partners has acquired a majority stake in San Diego-based software company PayLease, which handles payments and billing for property managers and home owners associations.
PayLease, which was founded in 2003, announced the investment June 28. Financial terms of the deal were not disclosed.
The investment will support PayLease's "accelerated organic growth," including potential acquisitions, the company said.
PayLease, which has offices in San Diego and in Chicago, works with more than 4,500 property management companies nationwide.
"This investment by Vista validates the market leadership we've built to date, and gives us the opportunity to expand our products and services for the property management industry," said Dave Dutch, CEO of PayLease. "Our vision for making key business processes easier for property managers while delivering exceptional customer support remains the same, and we will continue to develop solutions that align with that goal."
PayLease's management team and existing investor, Francisco Partners, will retain "significant ownership stakes" in the company, according to PayLease.
Vista, which has been investing in technology companies with enterprise software since 2000, has offices in Austin, Chicago, Oakland and San Francisco.