Ezoic Purchases Orange County Tech Firm
Tuesday, January 31, 2017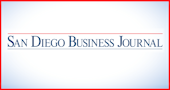 Carlsbad-based Ezoic said on Jan. 30 that it acquired AmpedSense, a digital ad testing technology company in Orange County. Financial terms of the deal were not disclosed.
Ezoic serves small website publishers by figuring out which layout of a website attracts the most viewers. It is a Google-certified publishing partner.
AmpedSense offers A-B testing for people using WordPress. A-B testing refers to testing the effectiveness of a website layout by creating multiple versions and seeing which version gets the better response.
In December, Ezoic announced that a former Google employee, Ohad Tzur, joined Ezoic as vice president of global partnerships.
Dwayne Lafleur is Ezoic's founder and chief executive. Ezoic has 33 employees.