SPORTS: PROPOSAL FOR PRIVATELY FUNDED PROJECT FACES MLS DEADLINES
Stakeholders Seek Details of Mission Valley Stadium Plan
Originally published January 26, 2017 at 3:20 p.m., updated January 26, 2017 at 3:20 p.m.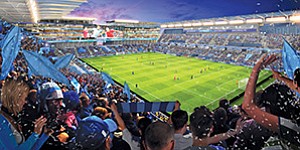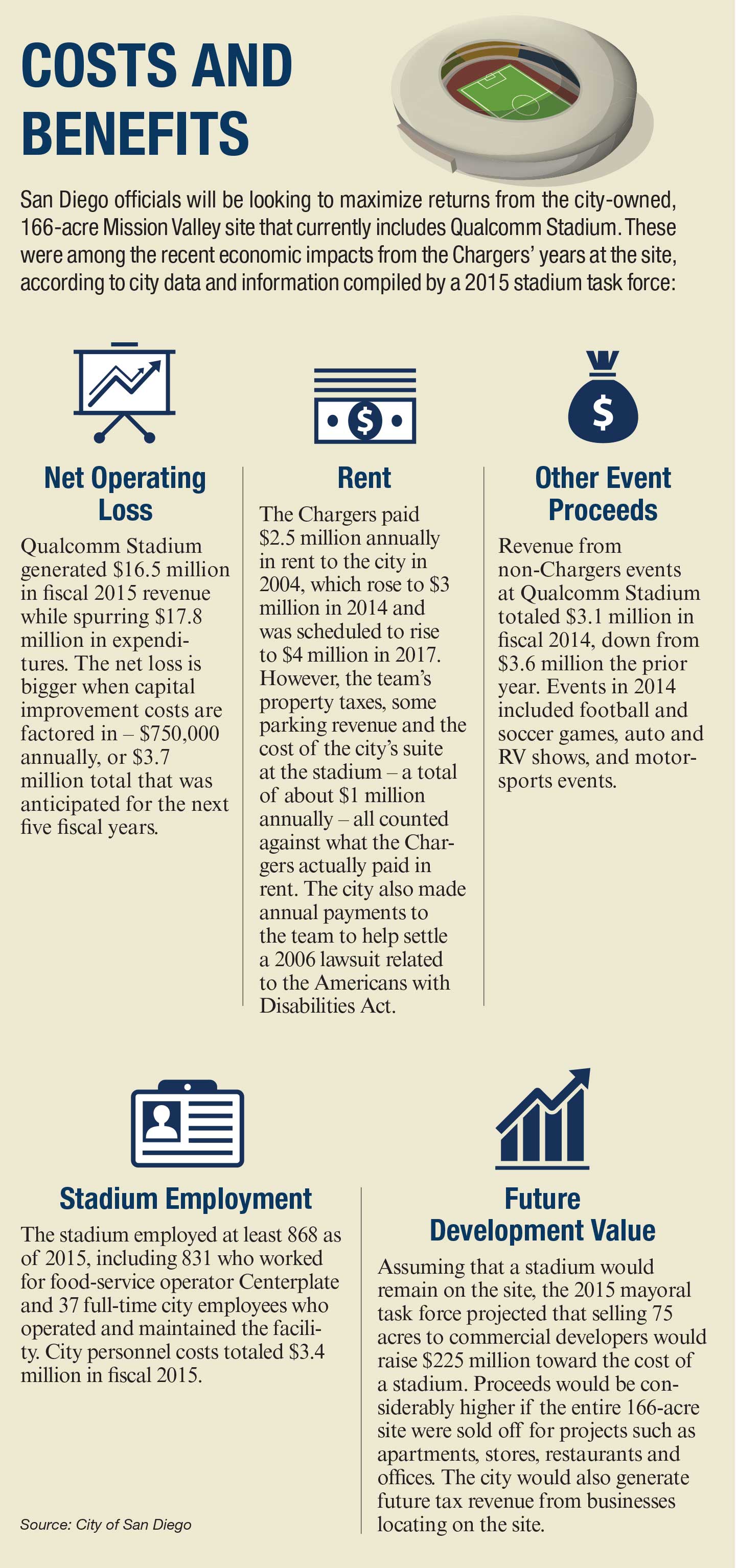 San Diego — With the former San Diego Chargers now officially out of the picture, city and business leaders have yet another potential vision to ponder for the Mission Valley site of the aging Qualcomm Stadium.
The latest was put forward by a local private investor group that is looking to bring in a Major League Soccer team, which would play in a $200 million stadium that could be shared with San Diego State University.
That venue in turn would be part of a larger development on the 166-acre site that could include an entertainment district with stores, restaurants and bars; a commercial office complex; and hundreds of residential units including about 800 apartments for SDSU students and staff.
The plans also call for a long-sought river park and other recreational spaces for the city. While developers have not put forward a cost estimate for the overall commercial development at Mission Valley, various sources peg that figure at around $1 billion at full build-out.
Unlike a prior Chargers plan for a downtown stadium that flopped at the polls in November, developers of the current proposal contend they can build their project with zero taxpayer dollars.
Here's a look at what various stakeholders will be considering in coming weeks, as they weigh the costs and benefits of this and other proposals that might come forward, and ultimately decide whether they will be participating.
Developers: Soccer-Centric Dreams
The investor group that recently unveiled its Mission Valley blueprint includes Michael Stone, founder and managing partner of locally based FS Investors; Steve Altman, former president and vice chairman of Qualcomm Inc., who is currently managing partner of AJL Investments; and Peter Seidler, owner of the San Diego Padres.
The group says it is in exclusive negotiations with MLS to bring a team to San Diego. In addition, it is in talks with several international soccer leagues to bring more of their tournament games to the proposed new 30,000-seat stadium, which would also house a new soccer academy aimed at grooming future new talent. It could also serve as a new home for SDSU football games and potentially the college bowl games currently played at Qualcomm Stadium.
Plans also call for reserving approximately 15 acres of the Mission Valley site for potential future development of a larger stadium that could house the National Football League, if the city is able to bring in a team to replace the Chargers. Owner Dean Spanos announced he was moving the team to Los Angeles.
Developers would buy the entire 166-acre site from the city at full market value, to be determined by a third party, and demolish the current stadium. The city has previously estimated the commercial development value of the land at about $500 million.
A key fiscal argument made by developers is that their plan would relieve the city of its long-term financial burdens associated with maintaining Qualcomm Stadium, on which the city has lost money on a net basis for the past several years. City records indicate that the current stadium costs about $12 million annually to maintain and faces about $100 million in deferred maintenance costs. Also, the city still owes about $28 million on outstanding bonds.
"Not only do we provide the city with a relief from that massive liability, and a river park, but we will take over the obligations for Qualcomm Stadium and provide the Aztecs with a right-size stadium for their football program that will provide a much more compelling venue for them," said Nick Stone, a partner at FS Investors. The firm has previously developed several office, residential and mixed-use projects nationwide.
The investment group next month will begin gathering nearly 72,000 signatures for a citizen's initiative, aimed at placing its proposal before San Diego City Council this summer. The council would have the choice of approving the plan on its own, or placing it before voters on a future ballot, likely in 2018 at the earliest.
However, developers contend that waiting for a public vote will not allow them to comply with an MLS deadline for having all approvals in place for a stadium that is ready to host games starting in March 2020.
Results of a San Diego Union-Tribune/10 News poll, released Jan. 24, indicated that 74 percent of 700 adults surveyed favored the stadium and river park proposal, with 17 percent opposed and 10 percent not sure. The survey had a margin of error of plus or minus 3.3 to 5.5 percentage points.
City of San Diego: Right Place, But Right Plan?
The city has long contended that Mission Valley was the place t o build a new stadium for the Chargers and Aztecs, but officials ultimately were unable to convince the Chargers. The Chargers themselves proposed a mixed-use entertainment district at Mission Valley more than a decade ago, but more recently were focused only on downtown.
Mayor Kevin Faulconer said he was looking forward to reviewing the development group's final plan in its full form when it comes before officials. "This is an exciting concept that could welcome major league soccer to San Diego without public subsidy, provide a home for Aztecs football and create a long-awaited river park," the mayor said in a statement.
Before the latest developer proposal was put forward, Councilman Scott Sherman, whose district includes Mission Valley, said he would like to see the city review multiple proposals to redevelop the stadium site, along the lines of what the port district has done in gathering concepts for prime waterfront land.
"It would really depend on what's being offered, and what the benefits for the city would be in the long term," Sherman said of the decision process. After the latest concept was put forward, he said the soccer-oriented proposal looks promising, though he would like to see more details before offering formal support.
Sherman said there are also numerous issues to sort out, related to financially untangling the Chargers from the city and ultimately replacing the 50-year-old football stadium. The Chargers may still owe an estimated $12 million in lease payments, and there may be other costs related to maintenance, vendor payments and other contract-related matters. The team may also need to repay certain costs involved in repurposing Chargers Park in Kearny Mesa, the team's corporate office and practice facility where the Chargers' lease runs through July.
Any new project at Mission Valley will have significant environmental issues to address, including spilled fuel in the soil under the site, and persistent flooding issues in the area fronting the San Diego River. The investment group pushing the current stadium project acknowledges that opponent lawsuits aimed at blocking development are a near certainty.
Also, the city is in the midst of a multi-year process of updating the Mission Valley community plan to address chronic traffic congestion, among other long-simmering concerns among residents.
SDSU: Mulling Pros, Cons
Developers of the latest concept said they are looking to partner 50-50 with SDSU on the $200 million soccer/college football stadium, which could be built in a way that it could be expanded to as many as 40,000 seats if desired by the university for Aztec games. Depending on the outcome of talks with SDSU, the developers are considering, sometime in the future, donating their half of all stadium interests to the university.
During a recent media conference call, Megan Collins, chief of staff to SDSU President Elliot Hirshman, said university officials have informally discussed the latest proposal with the investment group on a few occasions in recent months. Whether the university participates in the proposed arrangement to develop a new stadium will depend on several factors that SDSU is studying, including how much the university might generate in concession, parking, in-stadium advertising and other revenue.
Before the investor group's proposal was announced, SDSU was in negotiations with the city to extend the university's current contract for the use of Qualcomm Stadium, slated to expire in 2018, for an additional two years.
The university previously has informally backed an earlier concept proposal put forward by an ad-hoc group led by representatives of JMI Realty, the investment and development firm started by former Padres owner John Moores. That plan calls for student and faculty housing, academic space, a San Diego River conservancy, and a stadium for the Aztecs and other sports that would have 30,000 to 40,000 seats, though a development cost has not been put forward.
The Moores-backed plan would likely require the city to donate the land to the university for free or at a price well below market-rate.
Bowl Game Association: In or Out?
Another factor in upcoming plans for Mission Valley is the role that college football bowl games or neutral site games might play. The size of the stadium being proposed by the investment group, for instance, may or may not be appropriate to the Holiday Bowl, which has been played at Qualcomm Stadium for 39 years.
"We are both looking into extending the contract here at Qualcomm Stadium and exploring other options for when the stadium is no longer available," said Mark Neville, executive director of the San Diego Bowl Game Association, which organizes the Holiday.
Neville added that association officials had not yet reviewed the full plans put forward by the investment group for the Mission Valley site.
The Bowl Game Association's current contract with the city at Qualcomm Stadium runs through September 2018.
The association announced Jan. 25 that it has decided to focus on just one post-season college football game starting in 2017 – the Holiday Bowl. The Poinsettia Bowl played its final game in 2016, after a 12-year run. The two bowl games generated more than $35 million in annual economic impact for the region, according to a 2015 report by SDSU.
In a statement, the association said discussions are underway with the San Diego Padres about playing the Holiday Bowl at Petco Park, in the event Qualcomm Stadium closes after 2018.