PotDrive Sees an Opening In WeedMaps Territory
Originally published January 26, 2017 at 3:09 p.m., updated January 26, 2017 at 3:09 p.m.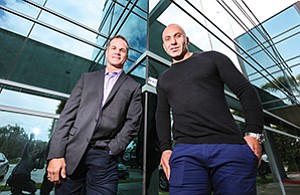 Canopy's Cannabis Tech Startups Grow S.D. Roots
The first cohort of startups incubated by cannabis-tech accelerator Canopy San Diego graduated last week, with several of the firms putting down roots in the region.
When Canopy San Diego put together its first cohort last year, only three of the eight firms were local. After graduating, however, two additional companies plan to move their headquarters to San Diego: Los Angeles-based LoudCloud and Denver-based Lodestone Data Technologies.
The startups join fellow cannabis-tech graduates Direct Cannabis Network, Icarus RT, and Loose Leaf Tech, which already call San Diego home.
Canopy San Diego invests in companies that are developing technology that serves the cannabis industry, and fosters their development through workshops, mentorship, and other programs.
The organization invested $20,000 in each startup in its first cohort, and ended the program with a demo day in which the startups pitched to a crowd of investors.
"Not only has the SoCal tech and cannabis community accepted our companies, but a number of local businesses have also agreed to participate in beta tests or become early adopters of our startups' technology," said Jack Scatizzi, managing director at Canopy San Diego.
"Because of this initial traction, a handful of companies participating in our accelerator program have decided to either relocate to San Diego permanently or to operate a regional office in San Diego, he said.
"Our goal when we launched Canopy was to give San Diego an edge in being the next leader in cannabis ancillary products and technology companies, and based on the results from our first cohort, it's working."
San Diego — Bardia Rahim, a serial entrepreneur in San Marcos, is developing an app to take on a giant among cannabis technology: WeedMaps...