Investors Propose Privately Funded Soccer/Football Stadium at Mission Valley
Monday, January 23, 2017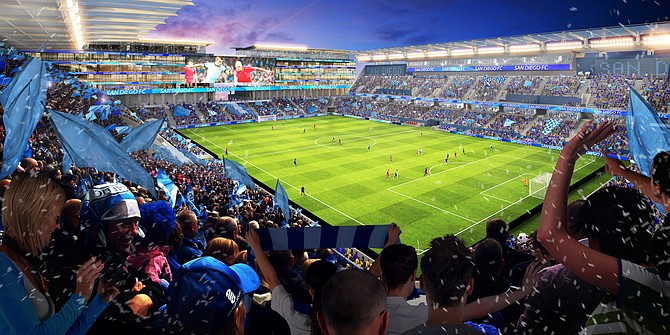 A local investor group wants to acquire the 166-acre Mission Valley site that currently houses Qualcomm Stadium from the city, to develop a privately funded, mixed-use entertainment district that would include a new stadium for San Diego State University and potentially a professional soccer team.
The proposal was unveiled Jan. 23 in La Jolla by an investment group that includes Michael Stone, founder and managing member of locally based FS Investors; Steve Altman, former president and vice chairman of Qualcomm Inc. and currently managing partner of AJL Investments; and Peter Seidler, owner of the San Diego Padres.
The group said cost projections for a mixed-use development at the site are expected to be released in the next two weeks. The group estimates that an appropriate stadium for college football and professional soccer, with 30,000 to 40,000 seats, would cost around $200 million, and the group will be filing an application by month's end with Major League Soccer, in hopes of bringing a team to San Diego.
Nick Stone, a partner in FS Investors, said plans call for reserving approximately 15 acres of the site for potential future development of a larger stadium that could house a National Football League team, if the city is able to bring in a replacement for the recently departing San Diego Chargers.
The investment group said the project can be carried out with no taxpayer money. Such a plan would require the city to sell the parcel to the developers at fair market value. The city in the past has estimated the development value of the Mission Valley site at approximately $500 million.
The project at full buildout would also eventually include housing units, including about 800 units for SDSU students and staff; commercial office buildings; and acreage to expand a previously proposed San Diego River park, to about 55 acres. The entertainment component would include restaurants, shops, live music and other elements.
The investment group plans to begin gathering nearly 72,000 signatures next month for a citizen's initiative, aimed at placing the proposal before San Diego City Council for consideration this summer.
Council would have the choice of approving the proposal on its own or placing it before voters on a future ballot. However, Nick Stone said, the timing of a ballot measure, possibly in 2018, likely would not allow investors to comply with an MLS deadline for having an approved stadium project in place by 2020.
SDSU spokeswoman Gina Jacobs said university representatives have recently been discussing the proposal with the developers, and SDSU is evaluating its potential role in the project. Generally, Jacobs said, the plan matches with the university's priorities for developing new student and/or staff housing, as well as a stadium with between 30,000 and 40,000 seats.
San Diego Mayor Kevin Faulconer said he was looking forward to reviewing the developers' final plan in its full form.
"This is an exciting concept that could welcome major league soccer to San Diego without public subsidy, provide a home for Aztecs football and create a long-awaited river park," Faulconer said in a statement.
This is not the first time an entertainment district has been proposed for the Mission Valley site. The Chargers and other proponents, during the past 14 years, put forward various versions of an NFL-centric entertainment district with mixed-use commercial elements that ultimately did not go forward.