San Diego Startup SparkFin Inc. Acquired by StockTwits
Wednesday, January 18, 2017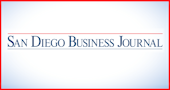 San Diego-based fintech startup SparkFin Inc., a mobile app that organizes stocks into lists, has been acquired by StockTwits Inc., the largest social platform for investors and traders.
Terms of the deal weren't disclosed.
The app will be shut down and integrated into the StockTwits platform, according to Phillip Moorman, SparkFin's head of marketing and growth.
The SparkFin app was aimed primarily at would-be investors; users could use the app to discover new stocks and practice picking a portfolio. The most popular list was "Where Millennials Spend their Money", which featured stocks based on consumer habits. Experienced investors could use SparkFin to gather data to inform their trading.
Launched in 2015, SparkFin was incubated by Social Leverage, the early-stage seed investment fund run by StockTwits co-founder Howard Lindzon, who has invested in SparkFin.
Math Venture Partners, an early- to growth-stage fund in Chicago, and Connecticut-based angel investment firm WorldQuant Ventures LLC, were also SparkFin investors.
"SparkFin makes it easier for newer investors to get started in markets and investing," said Ian Rosen, CEO of StockTwits, in a statement Wednesday, likening it to StockTwits' launch last year of Moneybadger.com, an investment guide for beginners. "The addition of SparkFin is an excellent way for us to further our mission of making investing easy, fun, and profitable."
SparkFin CEO Jason Pang, Moorman, chief technology officer Tom Walpole and user interface/user experience designer Maricela Chan will join StockTwits' San Diego-based team.