San Diego Business Journal Accepting Nominations for 'CFO of the Year Awards'
Monday, January 16, 2017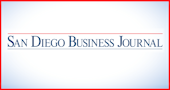 Nominations for the San Diego Business Journal's "2017 CFO of the Year Awards" are currently being accepted through Jan. 23.
A special awards reception will acknowledge the winners and finalists March 16 at Paradise Point Resort & Spa. Nominees will be judged in the categories of public company (publicly traded), privately held company, nonprofit organization, business nonprofit, government agency and education. This event recognizes contributions to company growth, leadership and community involvement by top financial executives in the San Diego area.
The San Diego Business Journal joins with title sponsor Barney & Barney and GreenRope and LEAD San Diego in presenting this popular recognition program.
Nominate or order tickets online at: http://www.sdbj.com/bizevents/