Otonomy Eyes Swimmer's Ear Market to Expand Use of Drug
Originally published January 12, 2017 at 4:14 p.m., updated January 12, 2017 at 4:14 p.m.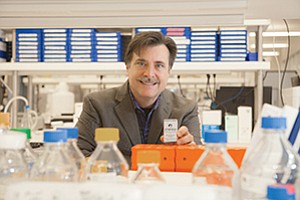 San Diego — Local drugmaker Otonomy Inc. is planning to ask the U.S. Food and Drug Administration for approval to sell its drug Otiprio for use in treating swimmer's ear.
If approved, revenue brought in for the drug could get a significant boost. Shortly after the company raised $100 million in an initial public offering, Otiprio was approved by the FDA in 2015 for use in treating children's middle ear infections. The drug was launched last March, and sales have been growing slowly, bringing in revenue of just $300,000 in the third quarter of 2016.
Otonomy expects adoption of the drug will accelerate thanks in part to a new drug code assigned by the Centers for Medicare & Medicaid Services, which will make it easier to claim reimbursement for the procedure.
An approval for use of Otiprio to treat the bacterial infection that causes swimmer's ear (officially called acute otitis externa) certainly wouldn't hurt drug sales. Swimmer's ear patients are typically treated with antibiotic ear drops that need to be dosed two or three times a day for a week.
"This trial reinforces Otiprio's unique profile as a single-dose product administered by a physician thereby eliminating the risk of patient noncompliance with the use of multi-dose, multi-day ear drops," said Otonomy's CEO David Weber.
Otonomy is armed with positive Phase 3 data, and plans to file a supplemental New Drug Application to expand the use of Otiprio in the first half of 2017.
Otonomy has said its portfolio of ear disease treatments, which also includes a candidate for tinnitus, could eventually net $1 billion in annual sales.
Avidity's Precision Pays Off
Avidity Biosciences LLC, a small biotech in La Jolla, has received $16 million in Series B financing to advance an unusual delivery of medicines.
The round was led by Takeda Pharmaceuticals, a global drugmaker with a large presence in San Diego. The round also had participation from locally based Moore Venture Partners and Alethea Capital, as well as Pasadena-based Alexandria Real Estate Equities, San Francisco's EcoR1 Capital, East Coast investors Brace Pharma Capital and F-Prime Capital, and Madrid-based Tavistock Life Sciences.
As part of the financing, Michael Martin, global head of Takeda Ventures Inc., and Todd Brady, director of finance and investments at Brace Pharma Capital, will join Avidity's board of directors. Tony Hsu of Alethea Capital will also join the board as a nonvoting member.
Avidity is engineering therapies that deliver RNA-based medicines to specific parts of the body. They do this by attaching small interfering RNA (siRNA) molecules to antibodies to "knock down" specific parts of the genetic code. By turning off certain genes, Avidity hopes it may one day inhibit disease-causing genes in a person's DNA.
Researchers have long talked about the promise for this approach to treat disease, but have struggled to deliver the drug effectively to any place other than the liver. Avidity has proprietary technologies and expertise, and has shown it can do this in preclinical models. Avidity's chief scientific officer, Art Levin, was invited to detail its potential in the Jan. 5 edition of the New England Journal of Medicine.
"Avidity has recruited a top-notch team and made significant progress against its scientific and business goals," said Martin, global head of Takeda Ventures. "We look forward to working with the company to realize the promise of antibody-siRNA conjugates as a new class of precision medicines."
Avidity has now raised $25 million in venture funding from top-tier groups and other health care investors.
Send news to bmeiling@sdbj.com.