SERVICE: COMPANY SELLS MACHINES, PLANS TO BRAND PRODUCTS
Natural Selections Help Vending Co. Evolve, Gain Markets
Originally published January 12, 2017 at 4:03 p.m., updated January 12, 2017 at 4:03 p.m.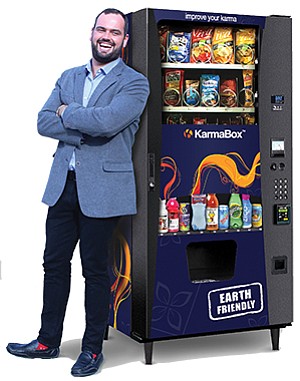 San Diego — Two-year-old KarmaBox Vending has broken into the highly competitive vending machine industry by offering something different: personal service and a menu of healthy snacks.
"We embrace the fact that we are smaller and it seems to help," said founder and CEO A.J. MacQuarrie, whose company is based in Lemon Grove. "Our competitors... used to tell our prospects, 'Oh, those guys are small.' That's why our tagline is 'Boutique Healthy Vending.' Yes, we're small and we like that. It allows us to provide better service."
The business sells branded vending machines called KarmaBoxes. There are 15 employees, with 12 based in the San Diego area. The company currently has gross revenues of about $1 million annually, according to MacQuarrie. He projects $2.5 million in gross revenues for 2017.
Relationship-Driven Service
"Each one of our operators is a small business owner with just a handful of KarmaBoxes to maintain," he said. "Personalized, relationship-driven service is what we strive for. And I believe that starts with me going out to visit each operator in person once they sign on."
People often associate vending machines with junk food and sugary snacks, but the KarmaBox brand appeals to health-conscious consumers. Instead of candy bars and pastry, the machines contain such foods as trail mix, fruit snacks, nuts, and granola bars.
Glen Brodowsky, a professor of marketing at California State University, San Marcos, said putting healthy snacks in vending machines is "a brilliant idea," given the current trend toward eating healthy foods.
Aarti Ivanic, an assistant professor of marketing at the University of San Diego, agrees that the idea behind the business is sound.
"In concept, it's a great idea," she said. "People like snacks in the middle of the day. If you can give them an opportunity to choose healthy food, why not?"
Starting Small
MacQuarrie sold his first vending machine in 2010 while he was attending college at St. Francis Xavier University in Nova Scotia, Canada, but it wasn't until the fall 2014 that he decided to make the vending machines a full-time endeavor.
He launched KarmaBox with an investment of $20,000, quitting his job at Starbucks. In the beginning, there wasn't much overhead.
"I needed a website, a telephone, good salesmanship and leads. I didn't need the equipment until people made purchases."
He started KarmaBox Vending in Boston, but moved to San Diego County in July 2015 because his life partner died unexpectedly and he was looking for a change.
There now are about 300 KarmaBox vending machines in more than 50 cities across the U.S. and in Vancouver, British Columbia, he said. The biggest markets are California, Texas and New Jersey.
The Business Model
MacQuarrie said his business model calls for selling the machines with a commitment to help buyers find suitable locations. Buyers must sign contracts agreeing to sell only healthy foods. MacQuarrie provides them with resource guides that list hundreds of products they can use. They must abide by that list or remove the KarmaBox branding from their machines.
"We are selling a business package," he said. "We don't call them franchises. We sell equipment. We provide services and training. We don't get a royalty. We do not get a franchise fee. We make our money off the initial sale. The packages start at about $35,000 for five KarmaBoxes."
MacQuarrie travels to cities around the country to help new operators place their machines in high-traffic locations. His goal is to help buyers become successful so that they will return to purchase more machines.
Many businesses are receptive to hosting vending machines that stock healthy snacks, MacQuarrie said.
"Healthy vending is still a fairly new concept to a lot of locations so they are excited when we call," he said. "Many companies now are pushing health and wellness for employees and customers. It's a trend and the timing is just right."
He looks for high-traffic locations where healthy foods are likely to be popular, such as schools and health clubs. Businesses that agree to host vending machines are paid commissions. There is more that goes into a successful vending machine business than finding the right locations, however.
Business Ingredients
"Vending machine owners need to select products that will sell, price them competitively, and negotiate proper machine placement at host businesses."
It's also important to pay the lowest available prices for healthy snacks. MacQuarrie said many vending machine owners buy their supplies at wholesale stores, such as Costco.
One of MacQuarrie's first KarmaBox buyers, Kim Isenberg of Maryville, Ill., said she discovered KarmaBox when she was looking for ways to generate retirement income. After 38 years in the restaurant industry, she purchased 10 vending machines to launch her own business.

"It started in October of 2014," she said. "I had been in restaurant management. I wanted to slow down and look at doing something fun for retirement. I had a friend who had started vending. I started talking to them about their business plans and did research on vending companies.
"I came upon KarmaBox and started talking to A.J. about vending and the possibilities of being successful," she said. "I liked the one-on-one interaction with him. With other companies, you kind of get lost in the shuffle. He was all about making sure I was successful."
MacQuarrie helped her scout vending machine locations in St. Louis, Mo. Since she started her business, her revenues have grown steadily.
"I'm doing very well," she said. "I'm going to continue doing it. I love doing it."
Plans for Branded Products
In 2013, the U.S. Department of Agriculture released new school nutrition standards that placed limits on fat, salt and sugar sold in vending machines.
"Schools across the country have to follow federal mandates and we comply with those standards," MacQuarrie said. "...We're launching a Youth Entrepreneurship Program so students can operate KarmaBoxes in their schools and learn how to run a business hands-on. I think that will give us a competitive edge."
MacQuarrie plans to increase his revenue by selling KarmaBox branded foods to his vending machine operators.
"We've launched our private label snack line called KarmaBites," he said "Our operators will soon be able to get them from us."