In This Ranking, Qualcomm Places 4th
Monday, January 9, 2017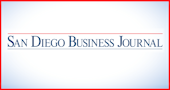 The scientists and attorneys at Qualcomm Inc. have been busy.
Qualcomm (Nasdaq: QCOM) received 2,897 U.S. patents in 2016, making the San Diego business the fourth-largest patent recipient in the annual survey conducted by Connecticut-based IFI Claims.
IFI counts patents issued by the U.S. Patent and Trademark Office, issued to both U.S. and overseas companies. In fact, half the recipients in the top 50 are Asian companies.
Qualcomm beat out big names such as Google Inc. (No. 5), Intel Corp. (No. 6), Microsoft Technology Licensing LLC (No. 8), Sony Corp. (No. 10) and Apple Inc. (No. 11).
IBM was top patent recipient, with 8,088 patent grants.
Samsung Electronics Co. Ltd. and Canon KK were second and third, with 5,518 patents and 3,665 patents, respectively.
The number of patents Qualcomm received during 2016 was essentially flat with 2015, when it received 2,900 patent grants. Quaclomm's patent portfolio consists largely of wireless communication technologies.
IFI counted a total of 304,126 utility patents for the year. IBM has been top recipient for 24 years and, with its 8,088 patents, scored an all-time high for any company in the survey.