Women Entrepreneurs Invited to Put Their Innovation to the Test in SBA Competition
Monday, January 2, 2017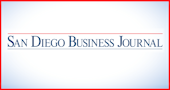 The U.S. Small Business Administration on Dec. 29 announced the launch of its third annual nationwide business competition for women entrepreneurs.
The first such competition, InnovateHER: Innovating for Women Business Challenge, was held in 2015.
Competitors will vie for $70,000 in prize money, funds given to the SBA from the Sara Blakely Foundation, a nonprofit organization started by the inventor of Spanx.
Judges of the competition are looking for "innovative products and services that make our lives easier and longer," the SBA said.
In 2016 Cassandra Curtis, co-founder of San Diego-based Once Upon a Farm, was among the program finalists. Once Upon a Farm makes organic baby food.
Entrepreneurs who enter the competition compete first in local competitions hosted by organizations such as universities and accelerators. Winners of local competitions advance to a semifinal round.
From among the semifinalists, 10 finalists are invited to pitch their products and ideas to a panel of judges. The final round this year will take place in mid-2017.
"A lack of inclusion in the innovation space leads to missed opportunities, especially when women make the majority of the buying decisions," the SBA said in its announcement.
To learn more about the program, visit sba.gov/innovateHER.