FDA Gives Tocagen's Drug Combination Breakthrough Therapy Status
Sunday, February 26, 2017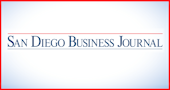 San Diego drugmaker Tocagen has won breakthrough therapy designation from the U.S. Food and Drug Administration, giving the company quick access to regulators as it advances a combination therapy for brain cancer.
The combo — made by combining investigation candidates Toca 511 and Toca FC — is meant to treat recurrent high grade glioma.
"Receiving Breakthrough Therapy Designation from the FDA for recurrent high grade glioma, the first time it has been granted for this type of brain cancer, highlights the urgent need for new treatment options for this deadly disease," said Marty Duvall, chief executive officer of Tocagen.
In combination, Toca 511 and Toca FC are designed to directly kill cancer cells and immune-suppressive myeloid cells, activating the body's immune system to fight the cancer.
The combination therapy already received Fast Track designation from the FDA in 2015.