Local 'Shark Tank' Startup Appearing on '20/20' Show
Thursday, February 23, 2017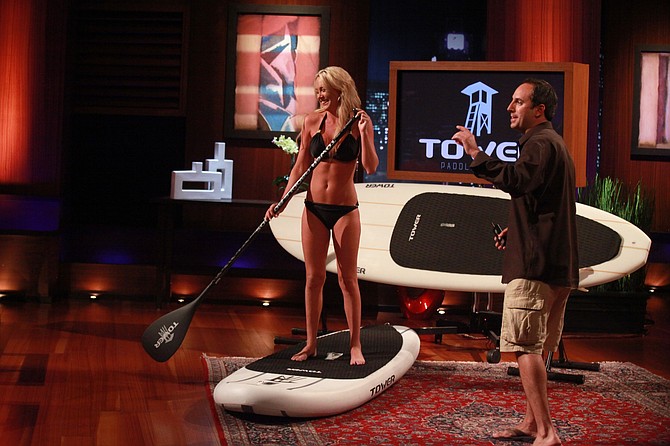 San Diego's Tower Paddleboards will be featured on ABC Television's "20/20" news magazine, set to air at 10 p.m. Friday, Feb. 24.
The occasion is a milestone for another program, "Shark Tank." The program's venture capitalists, also known as sharks, will reach $100 million in investments during the "Shark Tank" episode that airs just before "20/20," at 9 p.m.
Dallas Mavericks owner Mark Cuban took a 30 percent stake in Tower Paddleboards by investing $150,000 in 2012.
Tower CEO Stephan Aarstol said news crews spent four hours filming at his business last week, and that "20/20" will discuss Tower's evolution beyond stand-up paddleboards into a more holistic beach lifestyle company.
Tower has a showroom in Pacific Beach and a fulfillment center in the Miramar neighborhood.
Aarstol said Tower Paddleboards is Cuban's all-time best investment from "Shark Tank." He estimated that Cuban could fetch $5 million to $7 million for his current stake.
Aarstol recently made a name for himself by speaking out in favor of a five-hour workday.
Tower Paddleboards is a direct-to-consumer company that had $7.5 million in revenue in 2016. The company is shooting for $8 million to $10 million this year. It has seven employees and is hiring two.
The company has either launched or plans to launch beach lifestyle products such as snorkel masks, air chairs, beach tents, bicycles, skateboards and surfboards. The Tower name is now prominent enough for Aarstol and his friends to get licensing deals with yacht maker Chris-Craft and motorsports manufacturer Kawasaki.
"Shark Tank" has been on the air for eight seasons.