San Diego EDC Shuffles Staff as Senior Official Departs
Wednesday, February 22, 2017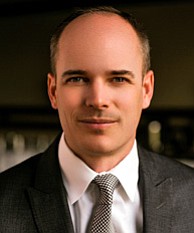 A senior official at the San Diego Regional Economic Development Corp. is stepping down to take a position in the Canadian government.
Sean Barr, a Canadian national who has worked for five years as the regional EDC's vice president of economic development, is expected to leave Feb. 24 for an economic development role within the administration of Prime Minister Justin Pierre James Trudeau.
Barr will be replaced by Nikia Clarke, executive director of the World Trade Center San Diego, which is part of the EDC.
While Clarke is expected to remain WTC's executive director, Lauren Lindner has been promoted to become the trade center's director, overseeing its day-to-day operations. Lindner joined the organization in June as trade and investment manager.
In a letter to EDC board members and investors, President and CEO Mark Cafferty called Barr "probably the best economic development professional in the country."
"Everything that our economic development agenda has become at EDC is reflective of who Sean is: thoughtful, legitimate, bold, open, inclusive, proud, collaborative, responsible and engaging," Cafferty wrote.
The EDC has credited Barr with helping secure direct flight service to Tokyo, Frankfurt and Zurich, as well as helping establish an economic development committee that now consists of 80 C-level executives.
He also is viewed as having been instrumental in the retention of locally based companies, including science technology firm Illumina Inc. and medical equipment-maker CareFusion, following that company's acquisition by Becton Dickinson (BD).