Qualcomm Successfully Tests 5G Technology; Tests Set in China
Wednesday, February 22, 2017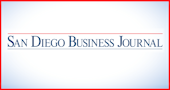 Qualcomm Inc. announced a fast first.
The San Diego company said Feb. 21 that it made the first wireless connection using what it hopes will be declared the industry standard in fifth-generation wireless telecommunications technology.
Qualcomm (Nasdaq: QCOM) completed the connection using its 5G New Radio prototype system in the frequency band below 6 gigahertz.
The tech giant said it will show the technology off next week at the Mobile World Congress in Barcelona, Spain. The new technology is expected to eventually replace the current, state-of-the-art 4G communication standard.
Separately, Qualcomm announced that it was partnering with China Mobile and ZTE on deploying a wide-scale 5G New Radio network in China. The partners will kick off interoperability testing and trials in the second half of 2017. ZTE will supply base stations while Qualcomm will provide prototype mobile devices. China Mobile is also investing in R&D with what it calls its 5G joint innovation center.
In a world where 1-gigabit-per-second speeds are considered good, the 5G New Radio technology transfers data at multi-gigabit speeds. 5G also transmits data with less latency — that is, fewer interruptions — than today's 4G networks. People will need such sophisticated connections for virtual reality, augmented reality (which includes games such as Pokémon Go) and connected cloud computing.
"The successful connection serves as a significant milestone towards rapid validation and the upcoming commercialization of 5G NR technologies at scale," Qualcomm said in a statement.
The San Diego business makes microchips for mobile devices and licenses its extensive portfolio of technology patents to other tech businesses.