Malin Space Science Wins $10.9 Million Navy Contract
Wednesday, February 22, 2017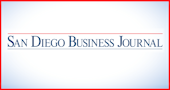 The U.S. Navy awarded Malin Space Science Systems Inc. of Sorrento Mesa a $10.9 million contract for space-qualified visible cameras for geosynchronous operations.
According to the Feb. 22 contract announcement, Malin will have to equip the camera with an extra-thick housing so it can stand up to the radiation present at geosynchronous orbit. In geosynchronous orbit, the speed of the satellite matches the rotation of the Earth, so the satellite seems to hang in place over one spot.
Work is expected to last through May 2019. The Navy contract has options which could bring its value to $11.5 million and extend work to August 2021. The Naval Research Laboratory of Washington, D.C. awarded the deal.
Malin Space Science Systems builds specialized space instruments and has a business processing imagery from cameras that NASA sends into space. Every Valentine's Day, Malin posts imagery of a heart-shaped geographic feature from Mars on its website.