Amazon Game Studios Opens S.D. Office
Sunday, February 19, 2017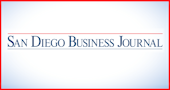 Amazon Game Studios, the online retail giant's gaming development arm, has opened an office in San Diego, the company announced.
The firm has tapped industry veteran John Smedley, who created the popular multiplayer online game EverQuest, to head the new office. Smedley was formerly president of San Diego-based Daybreak Game Company, previously called Sony Online Entertainment.
"John's pioneering work helped define the modern (massively multiplayer online game), and his influence can be felt in thousands of games that followed," Amazon said. "He helped create the blueprint for fusing massive game worlds with vibrant player communities, a vision that we share at Amazon Game Studios."
Amazon said Smedley's team is working on a new game that takes advantage of Amazon's cloud capabilities and Twitch, the company's live-streaming video platform.
The San Diego office is in Rancho Bernardo; Amazon Game Studios also has offices in Irvine and Seattle.
The company is hiring at all three offices.