Healthcare District Grant Promotes Outreach to Refugees
Originally published February 16, 2017 at 3:38 p.m., updated February 16, 2017 at 3:38 p.m.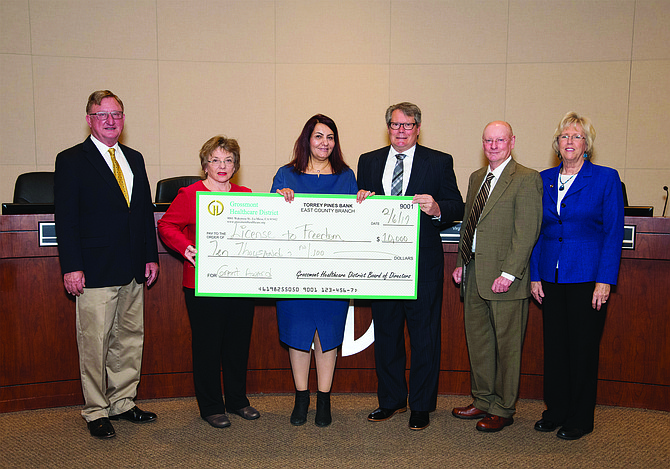 San Diego — The Grossmont Healthcare District has awarded a $10,000 grant to License to Freedom, an El Cajon-based nonprofit that assists Middle Eastern refugees and immigrants with cultural assimilation and health education.
Dilkhwaz Ahmed, executive director of License to Freedom, said the grant will support community outreach efforts, particularly as they relate to cultural adjustment to American health care norms. Outreach includes providing culturally competent health education classes taught in Arabic to recent refugees and immigrants now living in the East County. Taught by existing refugee health care workers, pastors and social workers, the classes will cover the basics about the U.S. health system. Classes will emphasize the availability of health care services at nearby community clinics and urgent care centers, instead of hospital emergency rooms. The funds will also support advertisements addressing cultural adaptation to refugees through Arabic newspapers, radio programs and social media channels.
Ahmed said some of East County's recent refugees will be escapees from Syria. Ahmed also said other populations supported by the GHD grant include refugees from Afghanistan, Iran, Iraq and Turkey. The top three refugee groups in the county are arriving from Iraq, Syria and Afghanistan.
License to Freedom was founded in 2002 by Ahmed, a Kurdish immigrant with a background in psychology, who was a women's rights activist in Iraq. Visit licensetofreedom.org.
• • •
Barbara Clark Diekman has received Pi Beta Phi Fraternity for Women's prestigious Carolyn Helman Lichtenberg Crest Award in honor of her professional achievements. The Carolyn Helman Lichtenberg Crest Award is presented annually to distinguished alumnae of Pi Beta Phi who exhibit excellence and outstanding leadership in their career or volunteer service to their communities. The award is named for past Pi Beta Phi President Carolyn Helman Lichtenberg, who was instrumental in forming Pi Beta Phi Foundation during her term from 1985 to 1991. Diekman has served women and families for 56 years as a licensed marriage and family therapist, including military personnel, veterans and their families. Pi Beta Phi promotes friendship, develops women of intellect and integrity, cultivates leadership potential and enriches the lives of members and their communities. The fraternity believes in the power of reading and through its philanthropy it promotes a lifelong love of reading.
• • •
City National Bank, through its "Reading is The way up" literacy program, and Barnes & Noble recently donated more than $25,000 in new books and cash to Garfield Elementary School in San Diego as part of its 9th Annual Holiday Book Drive program. Representatives from City National and Barnes & Noble presented the new books and cash to these schools at special assemblies and events with students taking part in the donation presentations. Garfield Elementary also received a donation from nonprofit Operation Give A Kid a Book of nearly $6,500.
Since the inception of City National's literacy program in 2002, the bank has donated more than 400,000 new books to schools and nonprofits in California, Nevada, New York, Nashville, Tenn., and Georgia. This year marks the 15th Anniversary of City National's Reading is The way up literacy program.
• • •
USO San Diego has dedicated a prestigious STAR to Doug and Geniya Manchester in recognition of their patriotism and philanthropy in support of the U.S. Military and USO San Diego. The STAR will hold a permanent place on the patio wall of USO Neil Ash Airport Center.
Manchester is a long-time champion of the U.S. military. In 2004, he visited Iraq. Last year, he served as the Presenting Title Sponsor for USO San Diego's 75th Anniversary Stars and Stripes Gala, "It Takes a City to Support our Military," and received the Patriot Award for his dedication to the Military.
Arne Nelson, CEO of USO San Diego, expressed his gratitude for the Manchesters; "their support of our community inspires us and elevates the spirit of all military and their families."
Send Kudos/Giving items to sglidden@sdbj.com.