CGS3's Attorney Additions Bring Real Estate Expertise
Originally published February 16, 2017 at 2:45 p.m., updated February 16, 2017 at 2:45 p.m.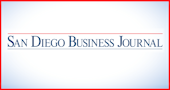 San Diego — Michael Cato has joined Crosbie Gliner Schiffman Southard & Swanson LLP (CGS3) as partner and Jamie Altman Buggy and Collin Waring as associate attorneys, expanding its commercial real estate practice.
Cato, Buggy and Waring join 17 other attorneys and six paralegals at CGS3, part of a new generation of law firms that are transforming the legal industry.
Cato, CGS3's newest partner, is a San Diego real estate and finance attorney who represents both local and national real estate developers, owners and investors. Previously a partner at Solomon Ward Seidenwurm & Smith LLP, he specializes in the buying, selling, leasing and financing of commercial properties in the office, industrial, retail and multifamily sectors. Prior to joining Solomon Ward, he was an associate at Latham & Watkins and Sheppard Mullin.
Buggy was most recently with Procopio, Cory, Hargreaves & Savitch, LLP, and adds depth to CGS3's real estate litigation and distressed assets practice group. She represents business owners and individuals in all areas of real estate disputes, including breach of contract, fraud, insurance coverage, partnership disputes and breach of fiduciary duty.
Formerly an associate at Troutman Sanders in Del Mar, Waring adds longevity to CGS3's established transactional team. His expertise includes the full range of commercial real estate transactions, and he advises clients on a variety of operational and corporate agreements including licensing agreements, operating agreements, subscription agreements and private placement memorandums.
• • •
Charles T. Hoge has launched Hoge Law Firm in La Jolla, after more than three decades practicing business litigation. Hoge, a 20-year La Jolla resident, will continue working with clients on partnership, real estate, employment, intellectual property, unfair competition, trade secret and professional liability matters.
Hoge Law Firm specializes in high stakes business litigation, often called "Bet the Company" cases, in which an organization's existence may be at stake. Hoge takes pride in achieving practical, creative and cost-effective solutions to complex business disputes for his clients.
Hoge Law Firm earned a place on U.S. News & World Report's 2017 "Best Law Firms" Tier 1 list for commercial litigation.
Prior to opening the new firm, Hoge served as managing partner for San Diego's Kirby Noonan Lance & Hoge. He joined the firm in 1988 and was the managing partner for 14 years, while maintaining a full-time litigation practice.
• • •
Mintz, Levin, Cohn, Ferris, Glovsky and Popeo P.C. has appointed Daniel T. Pascucci as managing member of its San Diego office. Pascucci assumed the duties, previously held by Eddie Rodriquez, last month.
Pascucci's practice is focused on complex international business disputes, domestic and international arbitration, RICO and fraud disputes and class action litigation. He has developed unique expertise in global asset recovery, helping clients around the world pierce multinational fraudulent schemes to recover debts and investment losses. He has tried to verdict or award over 40 cases, including jury trials, bench trials, and arbitrations.
• • •
Troy Zander has been named managing partner of DLA Piper's San Diego office. Zander concentrates his practice on representing lenders and companies in technology, life sciences and middle-market financing transactions. He is hiring partner for the firm's San Diego region, is a member of DLA Piper's North American Pro Bono committee and serves as the Pro Bono partner for the San Diego offices. Zander is general counsel, pro bono, of Feeding America, and previously served as chairman of the board of directors for the organization's San Diego affiliate.
Zander succeeds Robert Brownlie, who has served as DLA Piper's San Diego office managing partner for nine years. Brownlie concentrates his practice on the representation of corporations and their officers and directors in complex business, securities and corporate litigation.
• • •
Brown Law Group has named Noah J. Woods as partner at the firm. Woods, who joined Brown Law Group in September 2012, defends employers in all areas of employment-related litigation, including claims of wrongful termination, retaliation, discrimination, sexual harassment, breach of contract, and violations of wage and hour laws.
Woods handles labor and employment matters at both the state and federal level. In addition, Woods represents employers in areas of traditional labor law, including grievance arbitrations, unfair labor practice charges, union contract negotiations and other union-related matters.
Founding Partner Janice Brown commented that, "Noah is uniquely qualified for BLG. He is an extremely talented lawyer, but most importantly, he is the ultimate team player, with an amazingly resilient work ethic."

• • •
You may have noticed a new organization of attorneys and others in the legal field called Lawyers for Good Government (L4GG, formerly Lawyers on the Left. L4GG formed as an immediate and direct response to the presidential election last year. L4GG's organizer wanted to connect with the other lawyers she noticed were posting on Facebook; these lawyers were identifying potential problems with the way our government is likely to be run under the new administration and making thoughtful suggestions about ways to address those problems. L4GG formed chapters by state and other geographic areas. California has four chapters, organized by federal court districts. L4GG's Southern California Chapter includes San Diego County and Imperial County. Locally, the effort has been led by Marilynn Mika Spencer of the firm of Spencer Johnson McCammon LLP. You can reach her at:mspencer@thespencerlawfirm.com
Randy Frisch is in-house counsel for the National University System. He can be reached at rcfrisch@msn.com