Ionis Earns $75 Million from Bayer
Tuesday, February 14, 2017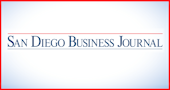 Carlsbad drugmaker Ionis Pharmaceuticals Inc. is receiving a $75 million payment from its partner Bayer to advance two anti-blood-clotting programs.
The two investigational drug candidates - called IONIS-FXIrx and IONIS-FXI-Lrx - are designed to reduce the risk of thrombosis (blood clotting) by reducing the production of a protein partly responsible for coagulation.
IONIS-FXIrx is set to enter Phase 2b development in 200 patients with end-stage kidney disease (who are on kidney dialysis) with the aim of deciding on the optimal dose. The other program, IONIS-FXI-Lrx, will continue through Phase 1.
Both clinical programs will be conducted by Ionis. If Bayer chooses to advance the programs at the end of the current phase, however, the global pharmaceutical company will be responsible for all subsequent clinical development, regulatory, and commercial activities, the companies announced in a statement.

Ionis will earn milestone and tiered royalty payments in the 20 percent range on gross margins of both drugs combined, according to the news release.